Improper Sealing and Maintenance got the best of these Super Saltillo Pavers
These 14 by 14 inch rounded edge Super Saltillo Pavers were installed in 1994. These pavers had 2 original coats of lacquer and in 2004 they put on 3 coats of a water based Acrylic Sealer. In these pictures we already have them stripped and revealing the dirt and grime that lay below the surface. Before they were stripped this dirt was embedded in the sealer and the pavers where getting badly damaged due to the lack of Proper Maintenance, and not sealing it right from the very beginning.
Cracked, Chipped, Mexican Tile Repair or Replacement
In these pictures you can see that the tile had a big chunk of lime, which eventually made the surface pop off, creating this hole. We replaced the tile with a new 14 by 14 Super Saltillo to match the existing tiles.
A Simple Solution To Keep Those Pavers Looking Great, Shiny, Bright, And Full Of Color
As you can see, we have completed our sealer stripping process, where we have removed all of the old existing sealer off the surface of the Saltillo and out of the sandstone colored grout that was hiding under all that old sealer and grime. We have also cleaned all that embedded dirt in some parts of the Saltillo revealing the brighter natural colors and patina that a regular cleaning just would not reach. After cleaning and drying out the pavers you can see they look great and are spotlessly clean, ready to be re-sealed.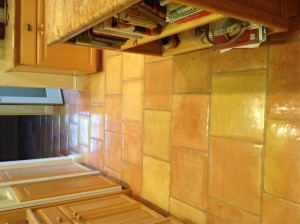 This is our Installed Saltillo from earlier blending perfectly with our sealed floor
Call California Tile Restoration Now for All Your Stripping, Cleaning, Sealing, and Overall Maintenance of your Saltillo Mexican Pavers
As usual the pictures speak for themselves. Look at the natural patina of these 20 year old floors. Notice all the color variation and how the sandstone grout complements the pavers and their earthy tone colors. These Beautiful Super Saltillo Pavers were restored in Fairfield California minutes away from Solano community college.
Contact California Tile Restoration today.
Email or Call Fritz Wittmann
(707) 384-1172
[email protected]