Tile Staining - Tile Sealing - Tile Polishing
California Tile Restoration Specializes in High Quality, Meticulous, Tile Staining and Tile Sealing & Polishing, Done by Hand.
Our refinishing service is a detailed process that includes stripping and removing all the old existing sealer and finish from Saltillo tiles, Mexican tile, Slate, Flagstone tiles, Brick, Manganese tile, Travertine floors, Marble, Limestone, and Natural stone.
After we've stripped off the sealer, we wash off all the dirt and residue on our hands and knees, detailing it like you would get your car detailed. In our case, hitting all the nooks and corners along edges, under cabinets and any other hard to reach areas that machines can't get to. Ultimately those are the areas that make an ordinary job, an EXTRAORDINARY job.
Interior & Exterior Sealer & Finish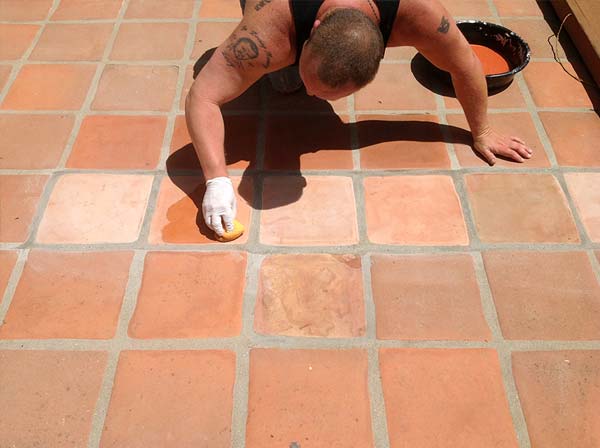 Paver Staining & Color Matching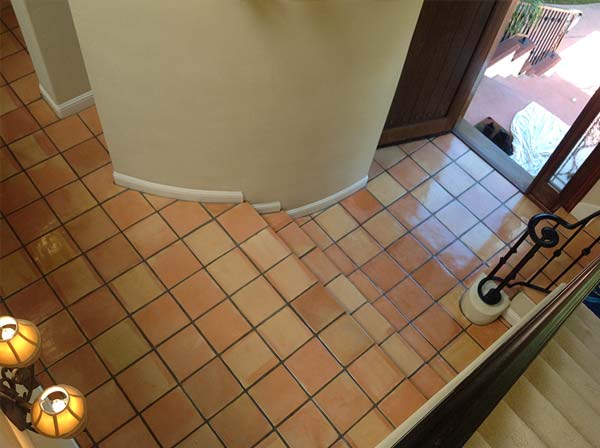 Saltillo Terracotta Sealing & Polishing
Interior and Exterior Surfaces:
After the paver floors are prepared properly and are ready to be sealed again, we have a few options:
An Acrylic Water Based Sealer
Floor Polish – Prolongs the Life of The Sealer
Penetrating Sealers
Color Enhancing Sealers
For interior use, I recommend we use a clear self-leveling water-based acrylic sealer.
If applied correctly water will repel off the tile and grout. Also, once it's applied and built up properly to achieve a true seal, the object is that you walk on top of the sealer, not the tile, so if any scratches or dirt occur it will be on the sealer, not the paver or grout itself. Another reason for sealer is that it is used as a grout release so that that tiles can be grouted properly. Last but not least everybody just likes a shiny floor, either super shiny or we could use the low sheen version of these types of sealers in case some people like more of a matte look, but with the same protection as the high shine. These sealers could be used on exterior paver tiles and grout as well.
Outside paver tiles should be treated with a penetrating sealer because they get more abuse from sprinklers, rain, sun, and dirt. The acrylic sealer outside will hold up they will need to be maintained more often, keeping that sealer built up. We don't use the floor polish outside because it won't hold up, the polish sits more on the surface exterior pavers. The penetrating sealer will give you a watertight seal which makes water and oil bead up on the surface but won't add any color to the paver and the grout, leaving it looking real, natural but kind of dried or faded looking.
The color-enhancing sealer is great for all paver families, except the Lincoln pavers, it does not enhance very well. Options for the Lincoln's are the acrylic sealer or the penetrating sealer. All the other pavers bring out the natural color, giving them some depth, more of a wet look without the shine. This also seals like a penetrating sealer giving it a watertight seal with water and oil beating up on the surface.
Paver Staining & Color Matching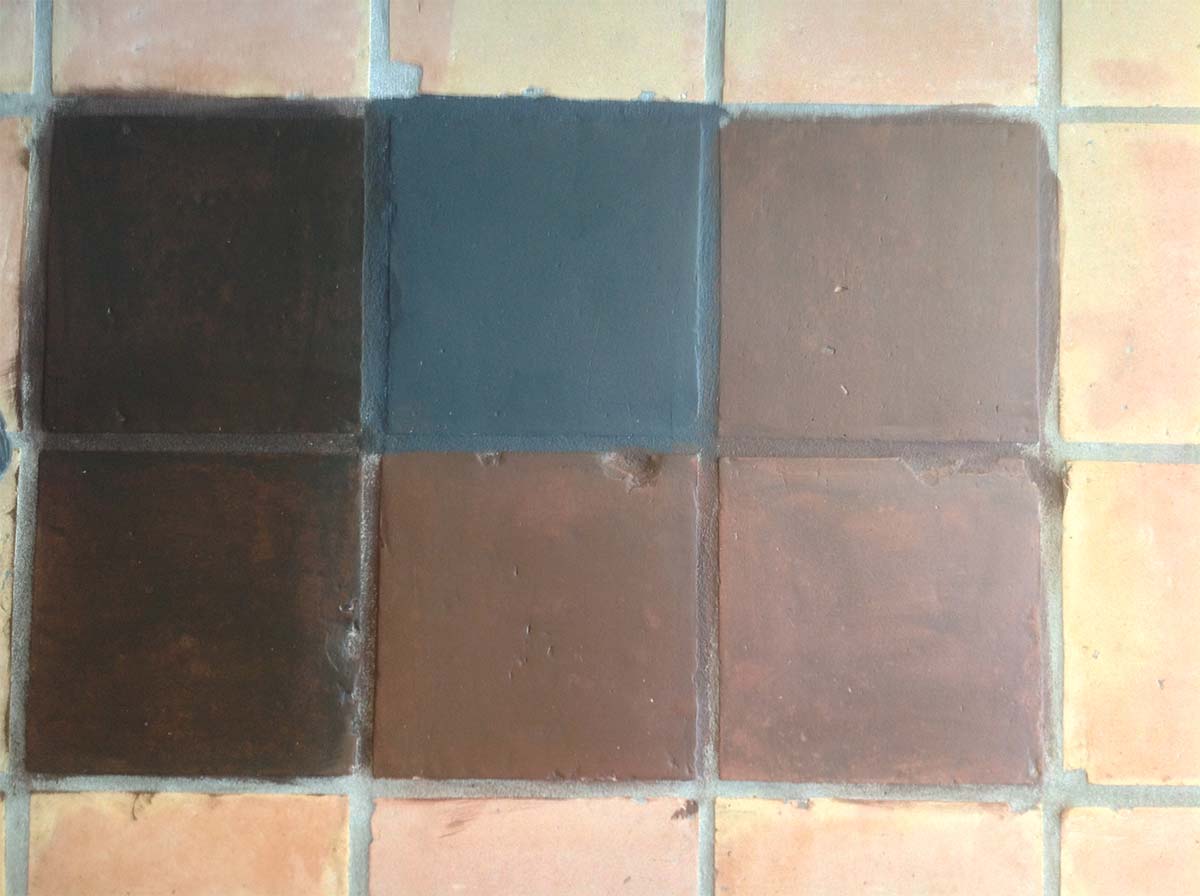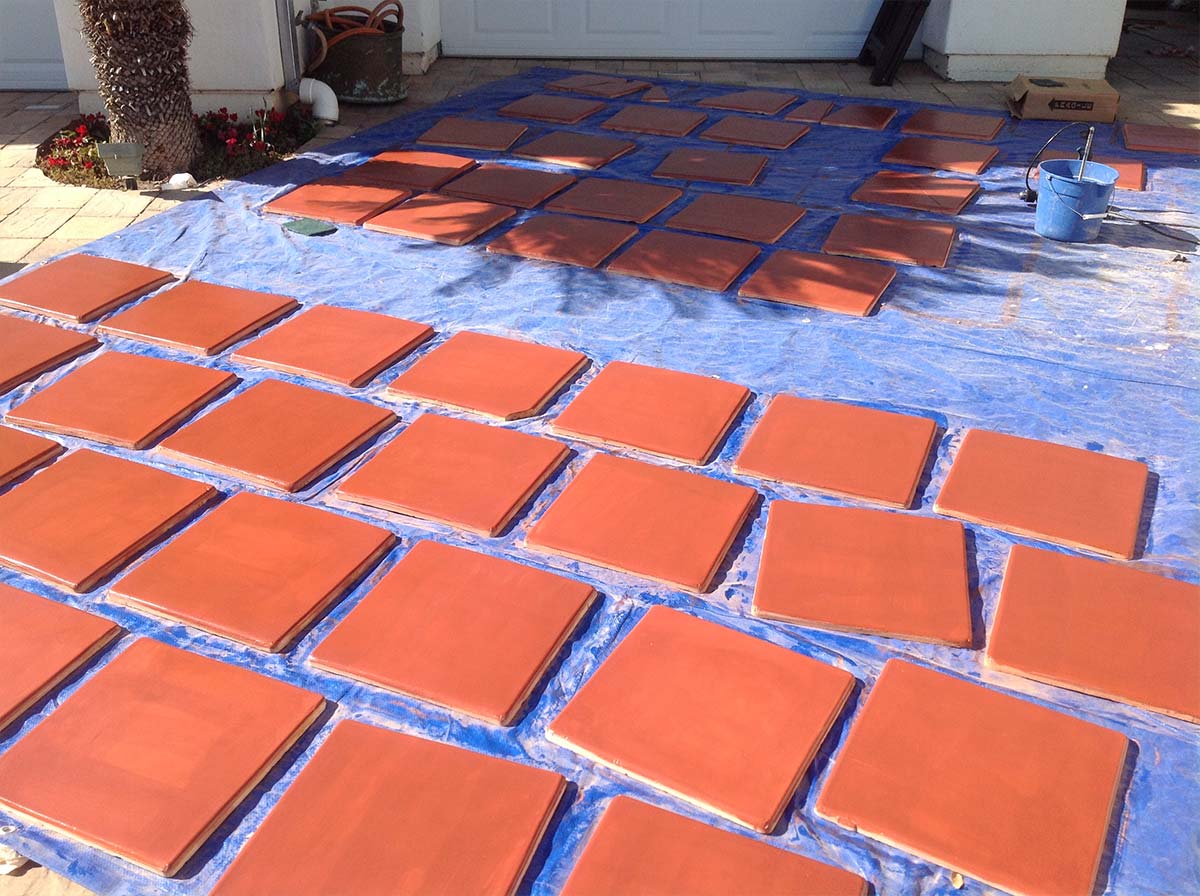 We can pre-stain them installed, or right out of the box.
I started staining pavers when I was 14. It took me years to master the art of how to stain pavers. Relax, and let our experience be your benefit.
Most people prefer when you stain the pavers, that they all have the same hue, but the blemishes, characteristics, and natural colors come through. What happens a lot is that people tend to put the stain on more like a paint and cover the whole paver.
What results is the paver are all one solid color instead of having variation. Making them one solid color also brings up the challenge of getting them sealed correctly. By this I mean, the solid color is so thick that the sealer bonds to the thick stain, not the paver underneath. Over time this will not hold up well. It will scratch easy, and began to turn white and cloudy, possibly peeling and blistering may occur.
We can custom match any color.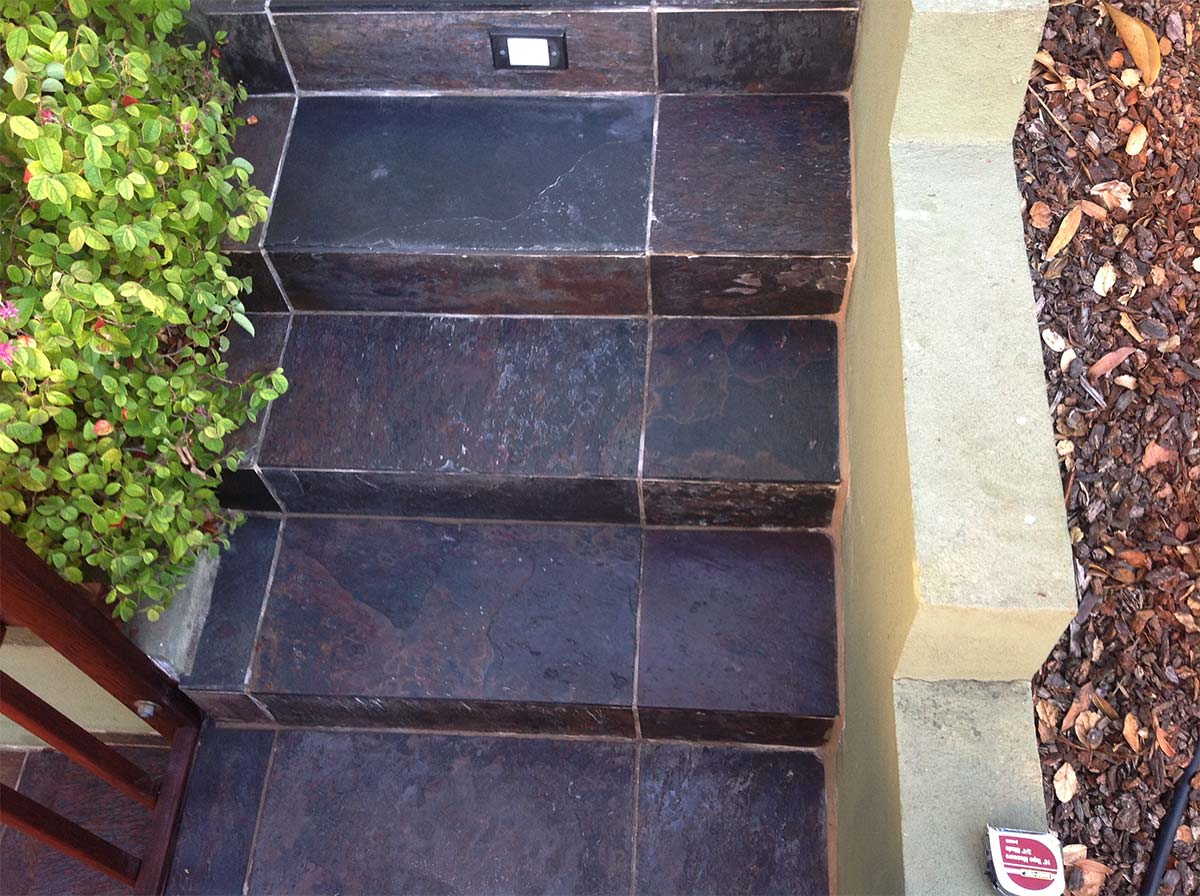 Once we've got flagstone stripped and cleaned, we let it dry out completely.
That's when we begin the sealing process. This is the final phase, and you have four options of sealers you can use:
A High Shine Sealer
A Low Luster Sealer
A Penetrating Natural Look Sealer
A Color Enhancing Sealant
We recommend the high shine sealer if you desire the indoors / interior sealed, and the color-enhancing penetrating sealer if you want the outdoors / exterior sealed to avoid staining and water damage.
Saltillo Terra Cotta Sealing & Polishing:
Interior and exterior Saltillos need to be cleaned the moment they are removed from the box. You will find that they have a fine powder and some minor dirt you are going to want to remove. This way the sealer will have a true bond to the tile and will fill the pores while if you DON'T clean them, the sealer won't saturate completely into the clay.
This is usually where a saltillo problem begins. The initial installation…
I've seen grout stuck on the tile beneath the sealer along with footprints and dirt. All these problems are then sealed in, giving you the impression that it will just clean off the surface, but no, at that point you will need to remove that old finish and clean the bare tile.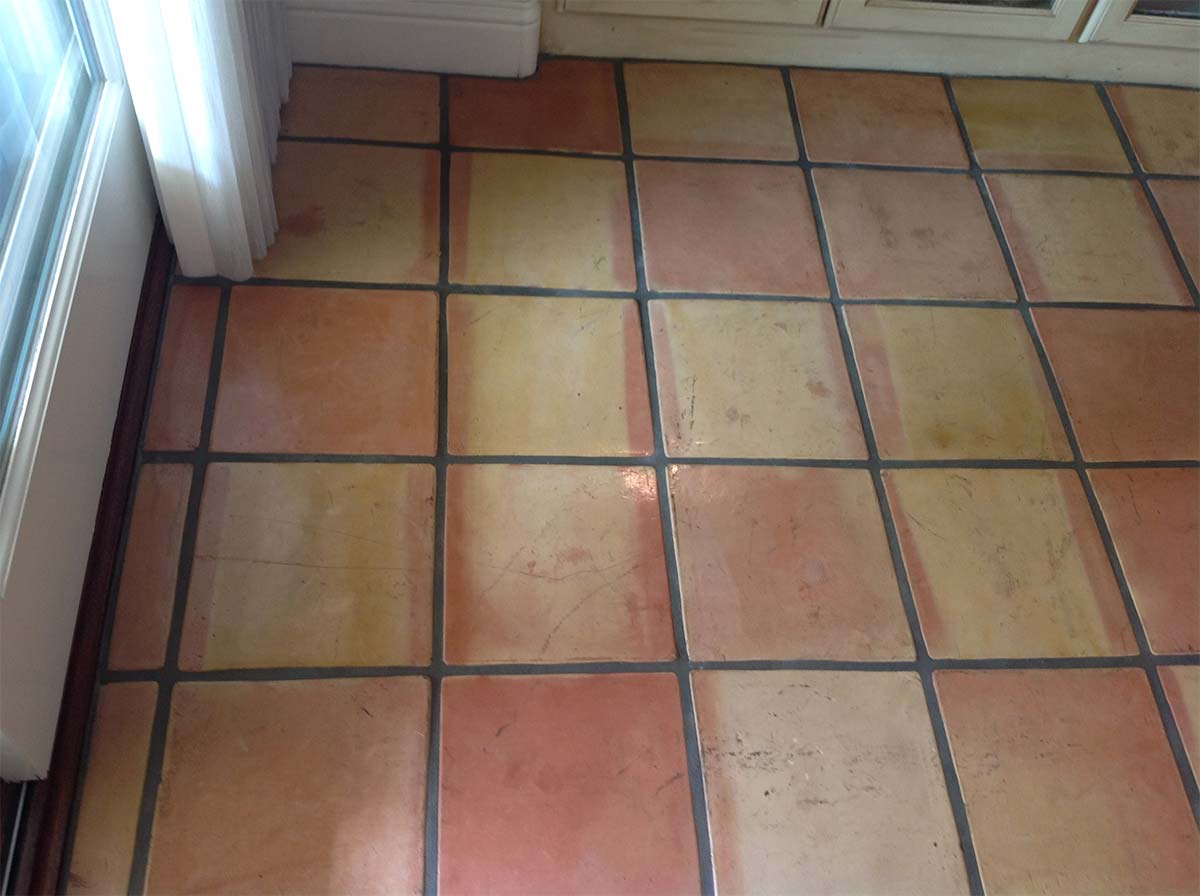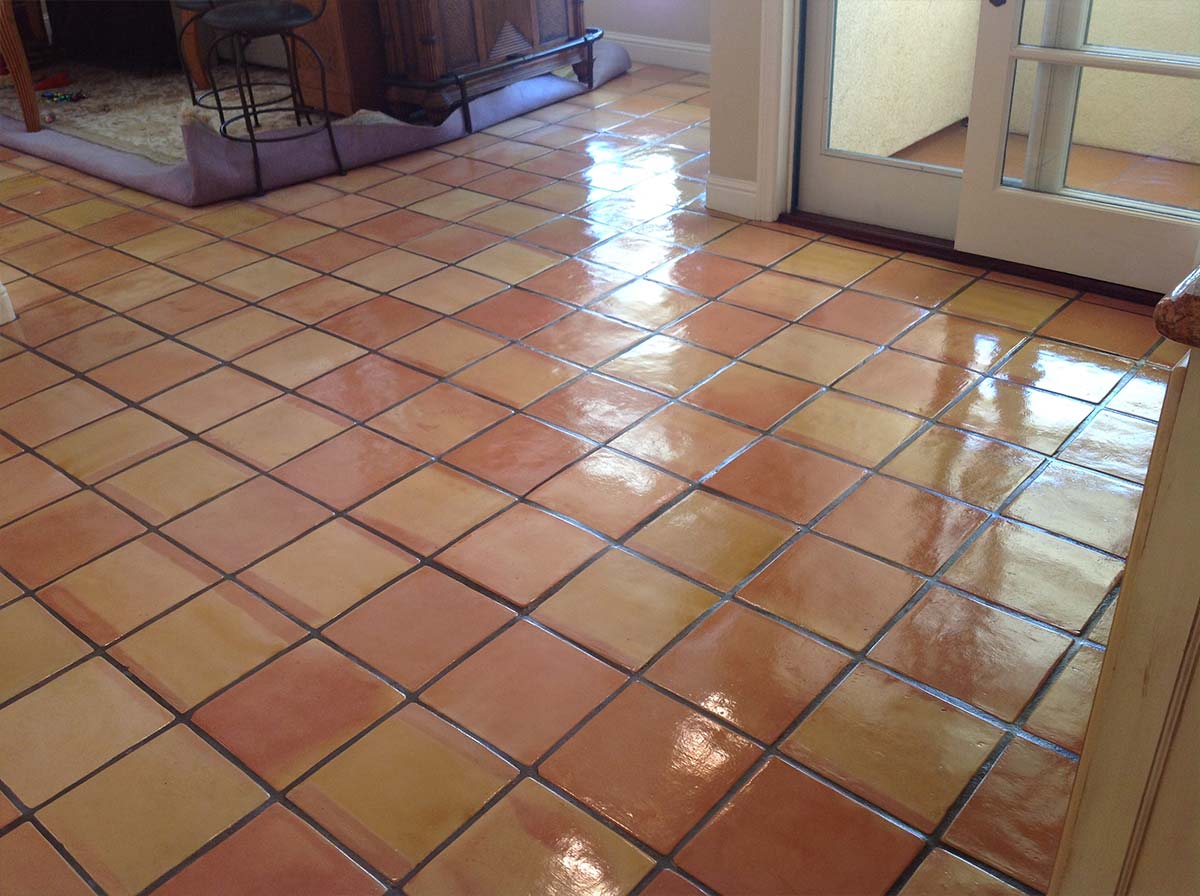 After the Saltillos are cleaned and dried out completely you need to choose a sealer. We don't recommend putting a glossy shine topical coating sealer on the exterior because they don't hold up to the elements such as rain, sprinklers, rain, UV rays, improper drainage, (which causes puddling and the puddling is murder on your sealer, slowly breaking it down and over time, the sealer on the saltillo tiles begin to turn white and cloudy and starts to blister and peel.
We are all about the protection and durability and giving our customers a bulletproof finish that will be easy to clean and maintain over the years, especially with children, pets, and really high traffic areas like the kitchen.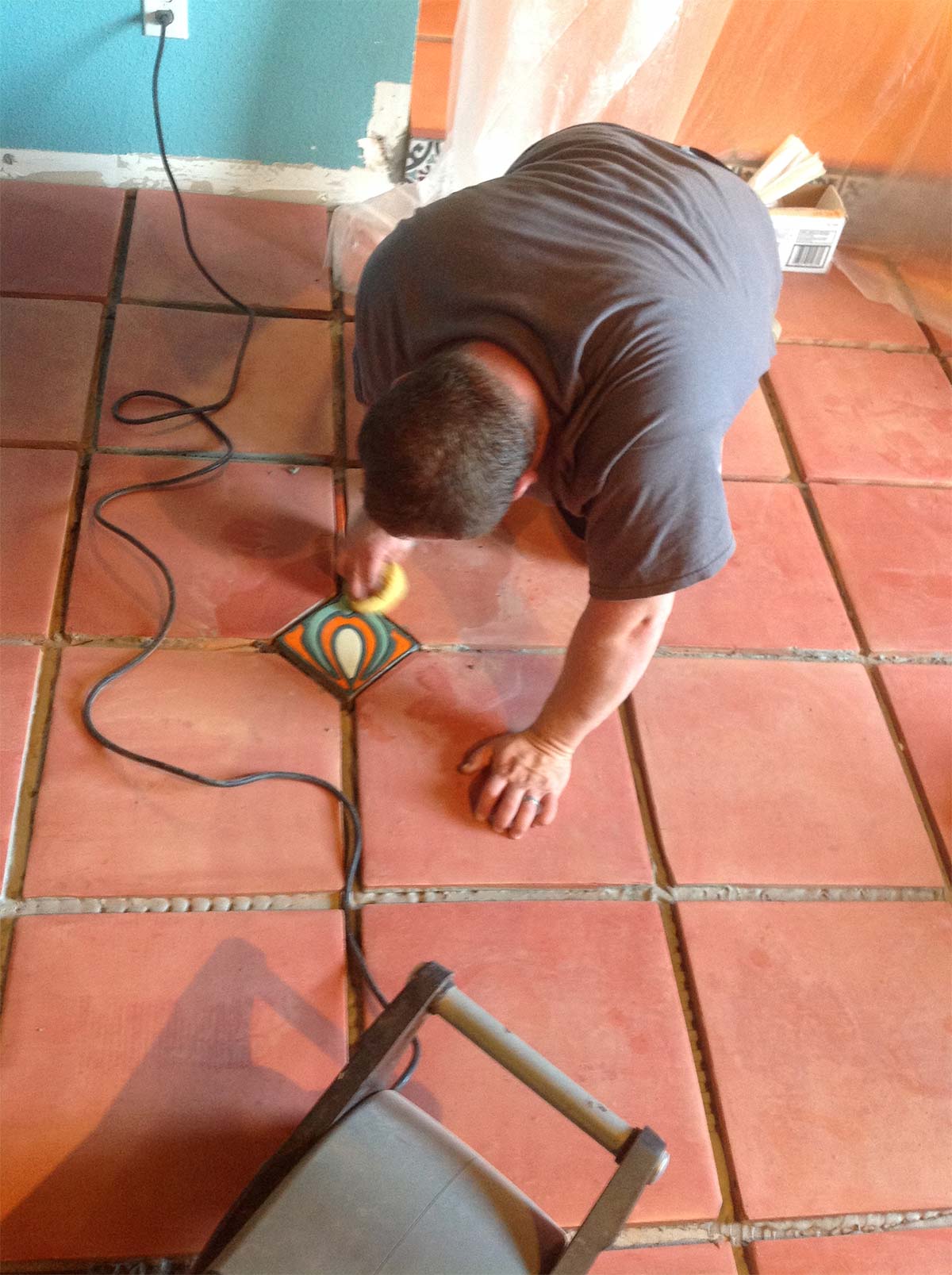 We recommend a color-enhancing sealer for exterior / outdoor saltillo floors.
We apply 2 coats of color enhancer, and 1 coat of penetrating sealer (for the added protection that we feel like the enhancer doesn't offer being that it's a true sealer).
We clean Saltillo's on hands and knees detailing every corner, nook, and cranny with a meticulous eye for detail (which is why we don't use machines B.T.W)
If your Saltillo's are sealed correctly from the beginning and you stuck to the maintenance schedule, maintenance will be quick and painless with great results every time.
Indoors, we recommend a topical coating glossy sealer. There's a ton of them on the market but we offer either a low-luster or a wet look, whatever our customer prefers. Low-luster is really popular right now.
If applied correctly then either sealer will hold up to foot traffic and protect the Saltillo's and grout for years. One's just shinier than the other.
The idea behind the topical sealer is you build up the layers of protection to keep from staining and causing irreversible damage to the bare tiles. Instead, all the stains, scratches, foot traffic and embedded dirt are all in the SEALER not on the raw saltillo tile itself. This is the main benefit to keeping saltillo tile floors sealed, cleaned, and maintained.
So, no matter what, done like this, Saltillo tiles can be refinished and restored back to like new condition, because the dirt and light scratches are only on the surface of the sealer. They can be brought right back to life by a good deep cleaning and applying 2 more layers of sealer. This needs to be done for maintenance every 3 to 5 years, so make sure you stick to a maintenance with your Saltillo's.
Are you looking to update your Terracotta tiles, Saltillo, Lincoln, or Mexican pavers? There's great news! You can change the color of your terracotta tile floor...