Do you recognize the 2 early warning signs that your Saltillo tiles need to be stripped
Saltillo tiles are uncleanable, and you have tried everything.
Dirt has embedded itself into the Sealer.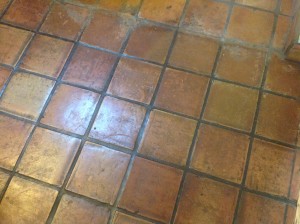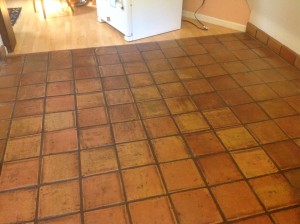 If this perpetuates any longer, you may begin to ware into the clay tile itself creating imperfections that refinishing may still reveal.
This 12 x 12 irregular antique Saltillo tile floor in Boulder Creek, Santa Cruz Ca, was in great shape as far as cracked tiles and broken grout are concerned.
The tiles have just gotten so dirty that it's unbelievable and needed to be stripped.
Stripping Antique Saltillo tiles can bring the life back to your floor and a smile to your face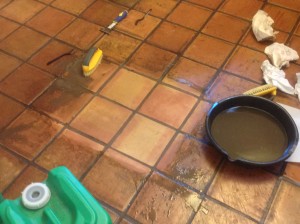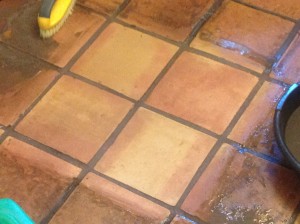 In these pics you can see the four pavers and grout test that I did to show the home owner what the floor really looked like.
We then stripped the saltillos down to the raw tile and grout.
This is what proper Saltillo tile cleaning looks like
We then cleaned the tiles while in their raw state, removing all residue, grease, oils, and dirt that managed to get through the sealer. This process gets the Salillos in as perfect condition as they could be.
Feel free to call California Tile Restoration Today for a refinishing or saltillo tile installation quote 707-384-1172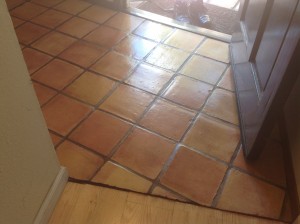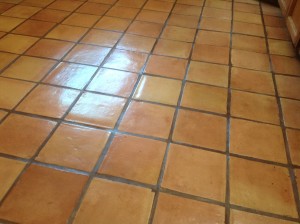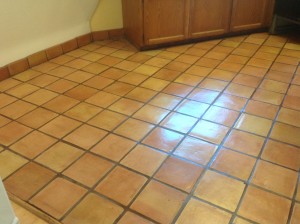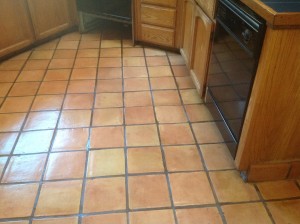 Lastly we sealed the antique saltillo tile floor with 5 coats of low-lustre sealer. Now with proper maintenance these saltillos should never have to be stripped again and this is the main goal of Saltillo tile restoration and refinishing.
Contact California Tile Restoration or email at
(707) 384-1172
Fritz Wittmann
[email protected]
California Tile Restoration cleans Saltillo tiles and restores floors in Santa Cruz ca and all surrounding areas and cities. We refinish saltillos in Boulder Creek, San Francisco Ca, Marin County, San Rafael, Novato, Fairfax, Lucas Valley, Yountville, Daly City, Oakland, Piedmont, Marinwood, Grass Valley, Pacheco, San Anselmo, Alamo, Glenwood, Larkspur, Terra Linda, Mill Valley, Belvedere, Tiburon, Bodega Bay, Sausalito, Menlo Park, Alameda, Emeryville, Davis, Pleasanton, Danville. CTR also strips saltillo tiles in Mountain View ca, Castro Valley, Union City, San Leandro, San Jose, San Mateo, Ukiah, Willits, Tomales Bay, King City, Santa Clara, Windsor, Reno, Las Vegas, Stockton, Lodi, Black Hawk, Auburn, Sacramento, Elk Grove, Manteca, Stitson Beach and more. We also strip, clean, and seal saltillo tiles in Southern California in cities such as Los Angeles, Malibu, Orange county, Anaheim, Hollywood, Beverley Hills, Belmont, Tustin, San Diego, Rancho Santa Fe, Coronado Island, Palm Desert, Ojai, Aptos, Santa Barbara and surrounding areas. We constantly travel as this work is not common.