Tired of Not Enjoying Your Patio Because Your Flagstone Is Moldy, Dirty, And Disgusting
In these before pics of this multi-colored irregular shaped flagstone patio in Glenwood, San Rafael, in Marin County Northern California, you can see how dirty and discolored the natural stone has gotten.
Not to mention there is mold and algae growing in it which is common when natural stone and flagstone are not sealed properly to protect them from the elements.
See How Easily You Can Transform Your Flagstone Patio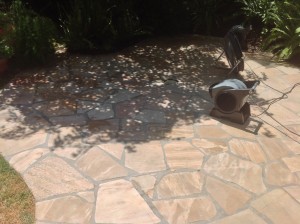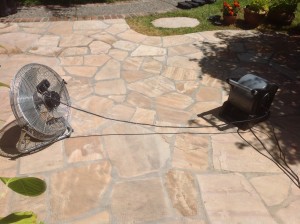 We first stripped off all of the existing sealer that had been applied. The home owner didn't know there was sealer on the flagstone because he inherited the patio with the purchase of the house.
You don't have to break your back to remove mold & algae from your flagstone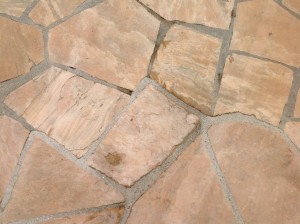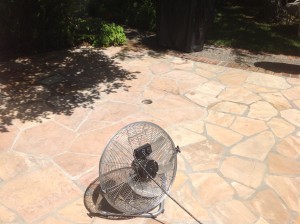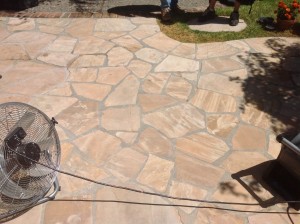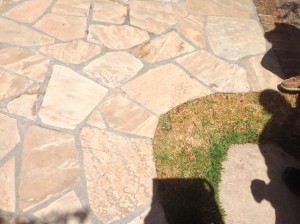 We then gave all of the flagstone and grout an acid bath, letting the chemical attack the algae and mold from the inside out. You can see in these pics we got out probably 95% of the mold.
There are 2 types of people, people with clean, protected flagstone that is easy to maintain… And people with dirt, algae, & deteriorating flagstone… Which group are you in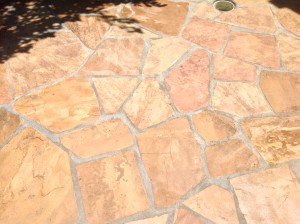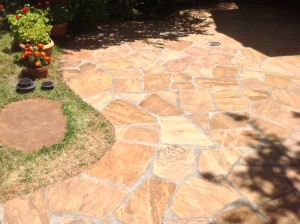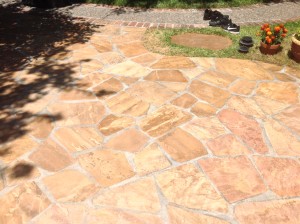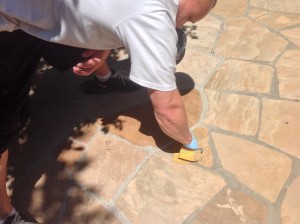 They still looked a little dirty looking so we applied multiple layers of a color enhancing penetrating sealer.
This will protect the flagstone from water getting into the stone as well as sun bleaching, and keep the flagstone easy to maintain with solid protection from the elements as well as bringing out the natural deep rich colors.
As you can see in these after pics the flagstone patio turned out amazing.
Make the call Today to California Tile Restoration & refinish that Flagstone once and for all
CALL California Tile Restoration TODAY or email at
(707) 384-1172
Fritz Wittmann
[email protected]
California Tile restoration cleans flagstone patios all over the west coast in cities including Marin Ca, Tiburon, Belvedere, Strawberry, San Anselmo, San Rafael, Glenwood, Larkspur, Mill Valley, Corte Madera, Novato, El Sobrante, Albany, Pinole, Point Richmond, Oakland, San Francisco. We restore natural stone to like new condition in San Marin, Fairfax, Lucas Valley, Miguel, Alamo, Terra Linda, Bodega Bay, Tomales Bay, Sausalito, San Mateo, Foster City, Marin City, Stitson Beach, Muir Woods, Black Hawk, San Jose, Menlo Park, Los Altos, Los Gatos, Brentwood, Danville, Lodi, Castro Valley, Alameda, Moraga, Lafayette, Walnut Creek, Milpitas, Piedmont, Castro Valley. CTR cleans and restores dirty, molded flagstone through Ojai, Mountain View, Union City, Auburn, Folsom, Sacramento, Sebastapool, Santa Rosa, Petaluma, Cotati, Windsor, Willits, Ukiah, Guerneville, San Ramon, Modesto, Manteca, Grass Valley, Reno nv, Las Vegas, Los Angeles, Southern Ca, Santa Barbara, Malibu, Orange County, Beverley Hills, Beaumont, Anaheim, Tustin, Torrance, and San Fernando Valley to name a few.