Is saltillo tile good for outdoors?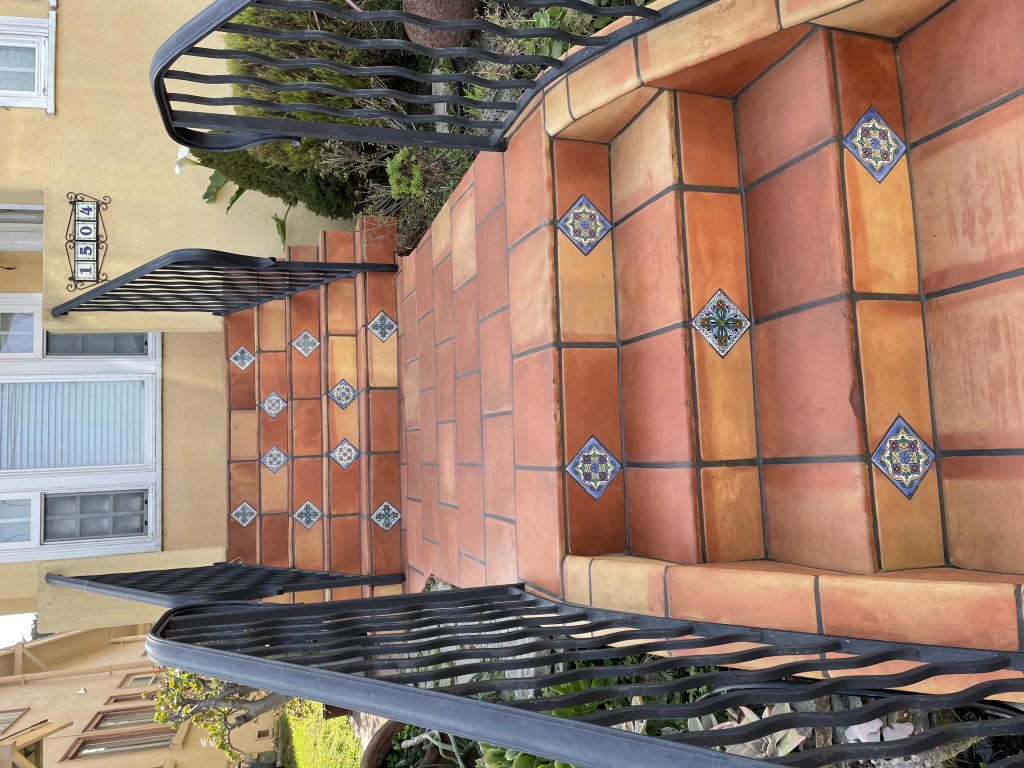 Yes and no.
In my experience and with my infinite knowledge of saltillos tells me that it depends on 3 things.
1) The installers of the saltillos's experience, these tiles are irregular in shape and size, so he needs to exaggerate the pitch, to make sure there's no flat spots where water can puddle, he should know where to strategically put drains.
2) Does saltillo need to be sealed? Yes it does!
3)  How do you seal saltillo tiles before installing?
Step 1: You lay them out on flat ground and lightly scrub the surface with a green scrubby to get off the stuck on factory dust.
Step 2: Lightly wipe them down 2 times with fresh water and a yellow grout sponge and then let them dry out.
Step 3: What do you use to seal saltillo?
A yellow grout sponge and what is the best sealer for saltillo tile? A penetrating sealer or a penetrating enhancing sealer applying two coats, making sure you seal the sides, which is important to keep the grout from staining all the edges, leaving a window pacing look around all the sides of the terracotta. Once installed and grouted you will need to clean the saltillos, removing the grout dust and then apply two more coats of what I think is the best sealer options for your outdoor saltillo tiles.
Is Saltillo Slippery When Wet?
Yes it is. That is why we recommend the penetrating sealers which are more natural looking, not shiny, because it's the coating that makes it slippery where the penetrating sealer seals from the inside out. The topical coatings (shiny sealers) seal from the outside in.
These are all questions you and your installer should have a discussion about.
For one you want to make sure he's knowledgeable about the sealers.
Secondly, make sure they are cleaning and sealing the saltillos correctly. In my years of terracotta restoration I notice that human error is 90 % of the problem, which will cost YOU in the long run.
Follow these steps and your outdoor terracotta tiles will stay looking amazing and won't be a slippery hazard you need to every 4 – 5 years clean and reapply the sealer.
Can you pressure wash saltillos?
No never.
What is the best way to clean saltillo tile?
On hand and knees with metal wire brushes for grout, nylon brush & or green scrubby pads for the tile.
These are the last of the questions you should ask your installer so that you are armed to the teeth with the proper information to maintain your saltillos for years to come.
I want to leave you with this. My last couple of thoughts.
Thought one: Make sure your gardener aligns your sprinklers and watered potted plants aren't getting over watered and they are elevated off of the surface of the terracotta.
Thought two: Dripping gutters and rusty metal table legs can cause damage that's hard to fix.
Stop wasting your time, energy, and money, on solutions that JUST DON"T WORK!
Planning Your Next Remodel Project?
Call or E-mail to see if you qualify for a  CUSTOM AUDIT
HURRY because our schedule fills up fast so secure your spot!
Contact California Tile Restoration
Email or Call Fritz Wittman
(707) 384-1172
We restore saltillo tiles in all cities and counties throughout northern and Southern California such as, San Jose, Marin, San Francisco, Sacramento, Daly City, Tiburon, Belvedere, Carmichael, Natomas, Davis, Fanta Rosa, Napa, Petaluma, Las Vegas, Reno, Walnut Creek, Santa Monica, and much more!