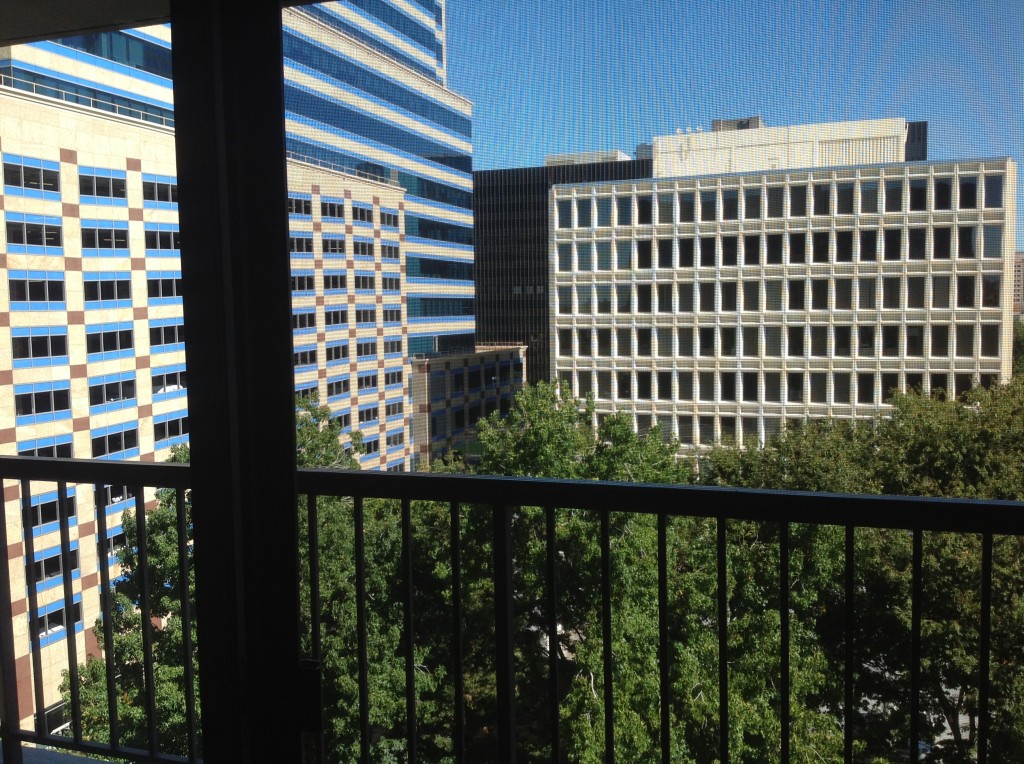 This Project was done in beautiful and busy downtown Sacramento, California.
Get That Tough Old Carpet Glue Removed Now!
In these pictures above, you can see there is carpet in this room that has been put over porcelain tile. They glue on tack strips all the way around the edges. the glue is also used to hold the carpet pad in place so it will not bunch up or slide around.
Removing Glued on Tack Strips From Porcelain Tile
You can see here the carpet is out and the carpet pad. We begin to pour out stripper on and around the tack strip to soften the glue. We pry up one edge, forcing liquid under the tack strip to continue to help soften it till the strip pops up. If we were to just pull the tack strip off, it would damage the integrity and surface of the porcelain tiles. That is the main reason we remove tack strip in this manner. We then scra;e off the thick blobs of glue with razor blades getting it down to where the stripper will melt off and ultimately, remove the final thin layer.
15 by 15 inch Porcelain tile stripped cleaned and sealed.
In these final pictures you can see all of the glue and tack strips are off of the tiles, and we have cleaned and sealed this porcelain and the grout. We removed those tough carpet glue stains, and stripped cleaned and sealed the porcelain tiles and grout leaving the home owner with a wide grin.
Contact California Tile Restoration today.
Email or Call Fritz Wittman
(707) 384-1172
[email protected]
California tile Restoration Strips, cleans and seals floors through the west including, Marin County, Santa Clara, San Mateo, Sonoma County, Lake County, San Francisco, Contra Costa County, Napa Valley, Wine Country, Los Altos,Orinda, Alamo, Danville, Aptos, Santa Cruz, Los Angeles, Orange County, Long Beach, Carlsbad, Laguna Beach, Seal Beach, San Diego, Escondido, El Cajon, San Bernadino County, Bay Area, Oakland, Alameda, Berkeley, San Jose, And Many More