This Gorgeous shot of Belvedere in Sausalito, Marin California as the fog rolls in. We're restoring an Outdoor Multi-colored Irregular Slate tile Patio.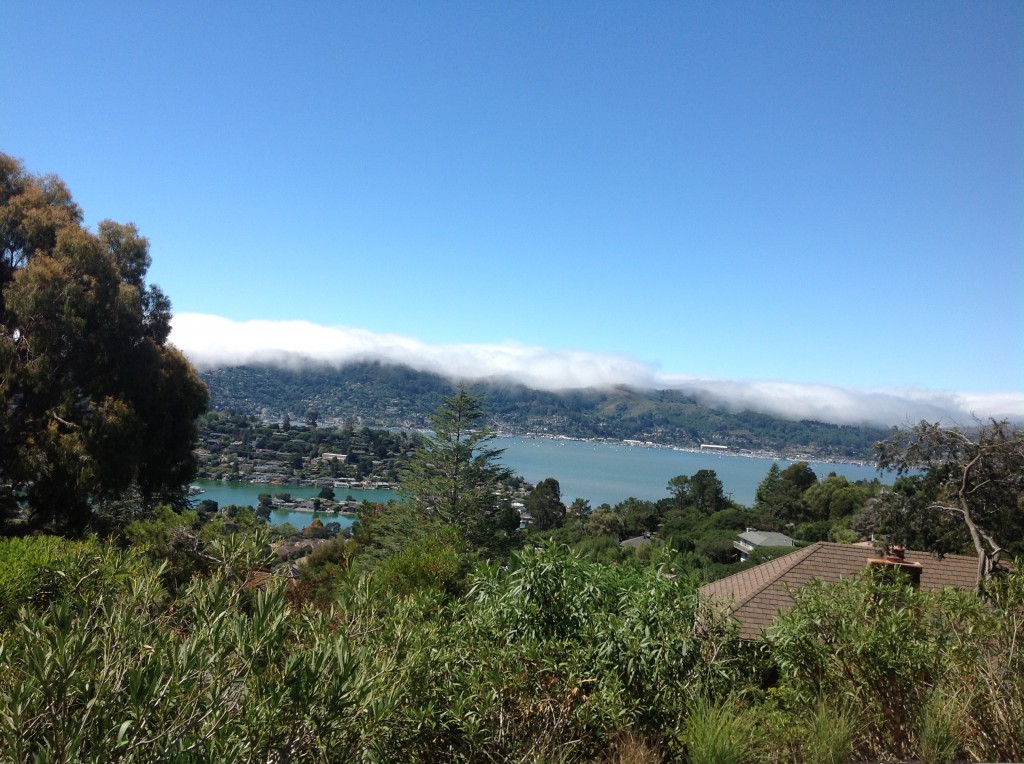 Transforming Dirty Irregular Slate Tile doesn't have to be a chore for you
In the pictures above, you can see the embedded mold, algae, and dirt in the grout and on top of the multi-colored irregular shaped pieces of slate. Underneath all that filth, is a shiny high gloss lacquer based sealer that has also failed and begun to peel and turn cloudy and hazy.
In these pictures you can see the dramatic transformation of this irregular slate patio in the city of tiburon, Marin county, Northern California. The complete transformation of this patio began by stripping off all the existing sealer out of the grout and off the slate. We then deeply cleaned each tile meticulously by hand, paying attention to every detail and hitting the edges as well as slightly under the house. The detailing ensures there is no old Lacquer sealer and the caked on mold. Getting th mold dots off the slate was the most grueling part of this project because it had really worked itself into the areas of slate where the sealer had failed.
Slate Patio Stripped Cleaned Sealed transformed into natural looking like new condition
The total transformation is now complete!
In these pics above, you can see "our eye for detail" really paid off on this irregular slate patio project. These brand new looking slate tiles have a water tight seal as well that prolongs the life of the tiles by keeping them from saturating and absorbin water, which when it dries in the tile, mold and algae begin to grow.
Want to read more info about our slate services? Click here
Contact California Tile Restoration today.
Email or Call Fritz Wittmann
(707) 384-1172
CTR cleans and refinishes slate tiles in all California counties such as Marin, Ojai, Napa, Contra Costa, Concord, Tiburon, Belvedere, Paradise Kay, San Francisco, Sonoma, El Bonita, Noel Heights, Monte Christo, Serena Del Mar, Los Angeles, San Diego, Encinitas, Orange County, Salmon Creek, Roseland, Jackson, Vacation Beach, Emeryville, Berkeley, Crockett, Pinole, Vacation Beach, Greenbrae, Auburn, Rohnert Park, Winndsor , Winters, Salinas. Also Tomales Bay, Verada, Monte Rio, Sea Ranch, Hacienda, Hessel, Mission Highlands, San Jose, Mill Valley, Cotati, Foster City, Sunset District, Green Point, Nicasio, Marinwood, Sleepy Hollow, Point Reyes, Oakland, Hercules, Winters, Redding, Red Bluff, Morgan Hill, Muir Beach, Lagunitas, Stinson Beach, Tara Hills, Lafayette, Clyde, Diablo, Walnut Creek, Pleasanton. Mountain View, Vacaville, Knightsen , San Rafael, San Francisco, Sacramento, Elk Grove, Discovery Bay, Monterey Bay, Danville, Calistoga, Moraga, Pacheco, Oakley, Byron, San Miguel, San Pablo, El Sobrante, Hayward, Albaney, Fremont, Union City, Daly City, Galt, American Canyon, Half Moon Bay, Sierra County, Loyalton, Angels Camp, Crescent City, And we travel all through ca.