Get more out of your slate tiles with these Slate Natural Color Secrets to Success and Bulletproof Protection!
In these pictures You can see the 20 x 20 varied color Slate doesn't look so bad, it's got a little mold in areas, and a little algae in others, but, mainly it had a fine sticky film from the surrounding trees sap. Here in mill Valley, just mies from gorgeous Mt. Tamalpais in Maric County, Northern California.
We cleaned all the Slate Tiles by hand detailing the grout and along the edge, being real thorough not missing the mold. That's where it seamed like the mold was the most prevalent. We then dried out the tiles. You can see they brightened up and actually look really nice like this, but we are gonna take it one step further…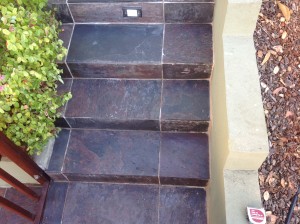 As you can see, The slate and grout are clean, but, the 20 x 20 pieces of varied color slate still looks washed out, so we sealed it with two coats of sealer and bam! …It looks Beautiful with all of its natural color.
Contact California Tile Restoration today.
Email or Call Fritz Wittmann
(707) 384-1172
[email protected]
California Tile restoration restores slate all over San Francisco, Marin County, Santa Clara, Sacramento, Monterey, Carmel, Orinda, Danville, Lafayette, Moraga, Piedmont, Castro Valley, Livermore, San Jose, San Diego, Los Angeles, Palm Desert, Twenty Nine Palms, Palm Springs, Orange County, Ventura, Laguna Woods, Laguna Beach, Redondo Beach, Pacific Beach, Stitson Beach, Aptos, Saratoga, Mill Valley, Hercules, Napa Valley, Wine Country, Sea Ranch, Tomales Bay, Bodega Bay, Boullin, Santa Rosa, Sonoma, Petaluma, Novato, Santa Monica, Malibu, Seal Beach, San Clemente, Carlsbad, Encinitas, Rancho Sante Fe, Rancho Bernardo, Urvine, Tustin, Santa Ana, Escondido, El Cajon, La Mesa, Torrey Pines, Merced, Modesto, Fresno, Kern County, Yolo County, Lake Tahoe, Auburn, Grass Valley, Roseville, Carmichael, Natomas, Anaheim, and any other part of the country that may need our services, Las Vegas, East Bay, South Bay, Gold Country, Central Coast, West Coast, Woodside, Redwood City, South San Francisco, Alamo, Walnut Creek, San Ramon, Black Hawk, Kentfield, San Anselmo, Solano County, Strawberry.