Why Brick Restoration is the answer
Old red bricks before they are stripped, cleaned, and enhanced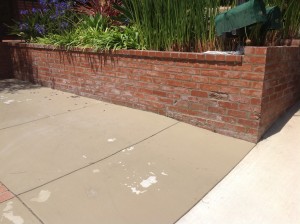 As you can see in this picture above, these bricks and grout joints have completely turned white. These bricks were "Restored supposedly 2 years ago." The white you see is caused by two things, both are the effects of water. The first being hard water, calcium, rust, and efflorescence. the other 80% of the damage was caused by human error, not mother nature or sprinklers. The previous company applied a topical sealer of some sort, it's too hard to tell in this condition.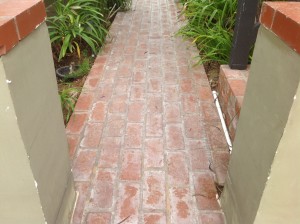 But as you can see, the sealer failed completely on this brick walkway above in Laguna Beach Southern California.
As you can see in the pic above we stripped off all the topical coating from the brick and grout.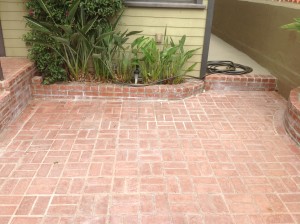 as you can see, we're still in the stripping brick process and I stand to be corrected, but I noticed right away that something wasn't right. I thought we only had two challenges, the water damage and the sealer failing. Come to find out with more questioning of the property owner, the last company took a belt sander to the red bricks because he couldn't get off the topical coating that was applied originally when the bricks were installed. So by sanding he made all of the brick and grout really smooth in some areas and it stayed normal in some parts and it stayed normal in some parts which was more textured and natural looking. Once we stripped the sealer off of the bricks and grout, we acid washed on our hands and knees, scrubbing away all calcium, lime, rust, and hard water marks getting the bricks and grout spotlessly clean. You can see below how awesome the brick looks after the acid wash and stripping process.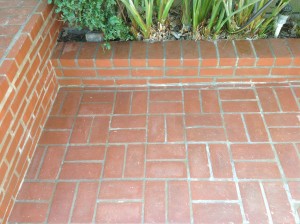 We now started to apply a two part sealing and enhancing sealer to the brick and the grout. Unfortunately this is where the damage caused by the belt sander is a bit easier to notice, but, as you can see, we made them look really good under the circumstances. Either way they were restored to a way better looking  condition that impressed the neighbors and party guests of the home owner.
Contact California tile restoration today.
Email or Call Fritz Wittman
(707) 384-1172
California Tile restoration cleans, strips, seals, and maintains brick in counties and ca cities such as Napa county, Solano County, Madera, Mariposa, Madoc, San Benito San Francisco, Sacramento, Elk Grove, Auburn, Folsom, Concord, Danville, San Ramon, Elverta, Inyo, Lassen, Yoba, Sonoma, Santa Cruz, Santa Rosa, Shasta, Del Norte, San Mateo, Daly City, Foster City, South San francisco, Trinity. As well as Gold Country, Wine Country, Coastel Caly, Eastern Caly, Fresno, Visalia, Silicone Valley, Rancho Solano, Humboldt, Ukiah, Colusa, Pinole, Danville, Blackhawk, Crow Canyon, Rolling Hills, Yountville, Dublin, Albaney, Livermore, Stokton, Pleasanton, Piedmont, Oakland, Galt, Gilroy, Rancho CordovaMenlo Park, Cotati, Sebastapol, Isleton, American Canyon, Calistoga, Brisbane, Pacifica, Millbrae, Woodside, Crescent City, Pacific Grove, Soledad, Sand City, Loyalton, Cupertino Los Altos Hills, And many more as we travel.