Are you looking to update your Terracotta tiles, Saltillo, Lincoln, or Mexican pavers? There's great news! You can change the color of your terracotta tile floor to virtually any color you'd like to match your decor and interior or exterior color palette. This guide will walk you through your options so that you complete your terracotta tile renovations with confidence and get those tiles the colors you've always dreamed of.

Best Colors For Terracotta Tile
There are a plethora of terracotta tile stain colors to choose from , and depending on the tile and your preferences some are better than others. Let's talk about the most commonly stained tile, Saltillo.
Saltillo tiles have stood the test of time, are beautiful, and very durable if properly maintained. They come in hues of pink and yellow but not everyone is thrilled with these colors. Because we are not actually PAINTING saltillo tile, we are STAINING them. The process is delicate and all done by hand so that we can avoid streaking at all cost. Saltillo tiles are very porous as well so we apply many coats of stain very diluted. Being that saltillos tiles are pink and yellow, the stain colors do not always look the color they are when applied the floor. For instance yellow on red becomes orange and so forth. These are the most popular colors people choose for their Saltillo tiles.

White Wash Stained Saltillo Tile
You really have to see it to appreciate the beauty of the White wash stain. If the white was stain is only lightly applied (say 1 to 3 coats) it lightens the whole floor and brightens the hues of pinks and yellows. The coolest part of this is the pearlescent like effect a high gloss sealer has on the entire Saltillo tile floor. You will really feel like you are walking on genuine mother of pearl with this color. When more heavily applied the Saltillos take a Snow White effect that contrast beautifully with any color palette, or if the grout is not stained or stained a different color, the saltillo tiles take on more of checkerboard effect.
Pros & Cons Of White Wash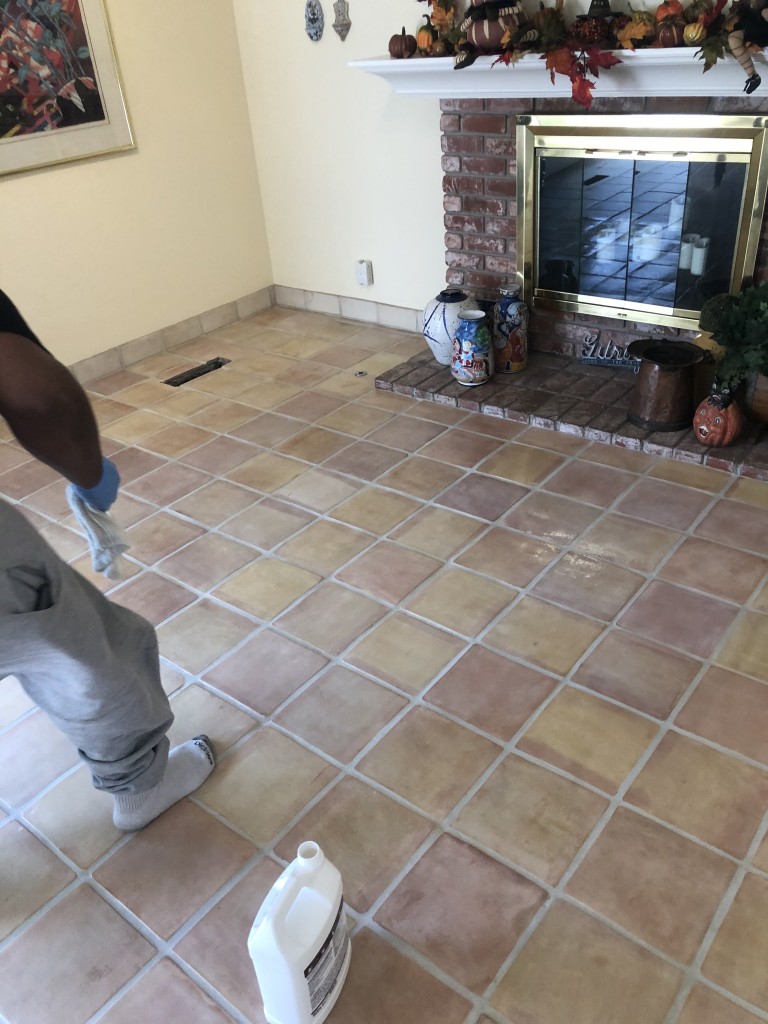 Pros: Beautiful pearlescent look checkerboard effector Snow White look
Cons:Must be more on top of the maintenance because neglect will drastically show over time
Solution: Do not use harsh chemicals because they will effect the finish and then start to remove the stain revealing pink and yellow as an eyesore (avoid Ammonia). Use neutral cleaner or a low suds degreaser and change your cleaning water often EX: if you have 500 sqft then change water at least 4x and buff dry area.
People neglect the importance of buffing them dry so that the leftover cleaner residue doesn't breakdown the sealer and prematurely dull the floor.With proper maintenance, you will constantly be smiling from the compliments from your guests.

Staining Saltillo Tile Dark Brown
When staining saltillo tile darker, it has an almost wood like feel to it. Remember stain penetrates into the tile and doesn't  sit on the top like paint, the natural Patina and look of the terracotta tiles will shine through, Including any natural markings in the tile itself. But don't be alarmed, because the effects are absolutely gorgeous.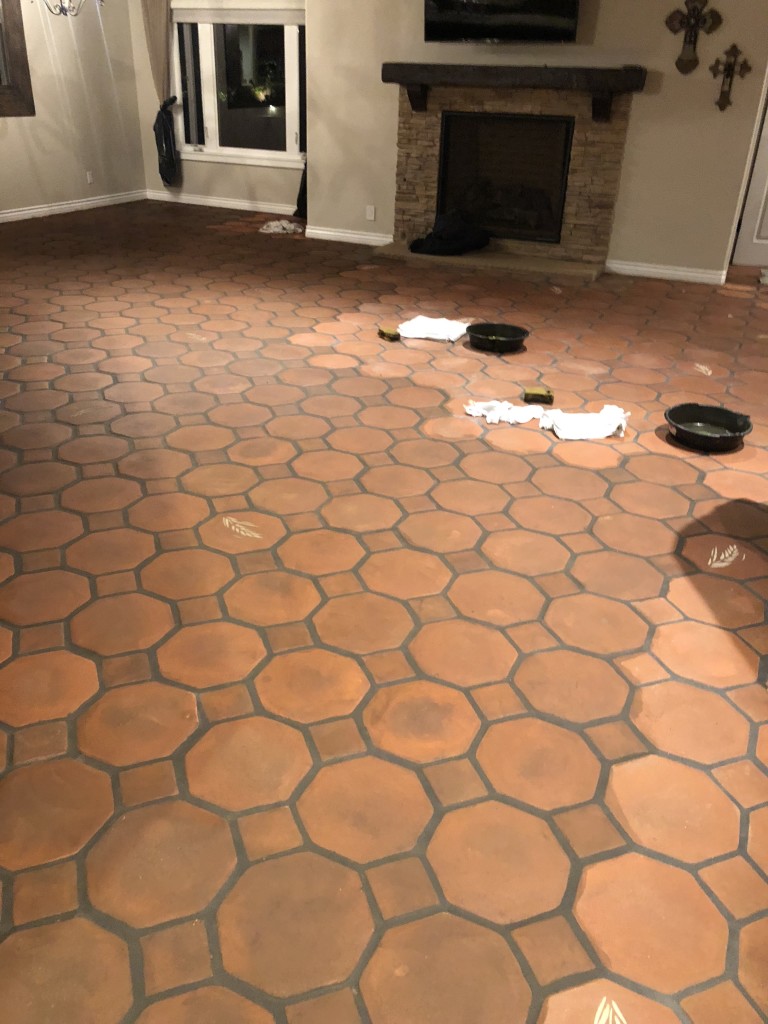 You can even brown out the floor and stain the grout as well giving the saltillo tiles a chocolate bar effect, and with the sealer finish topping it off, this is a winner every time. Same pro and cons rules apply to brown. (I guess there really is no medium STICK to your maintenance )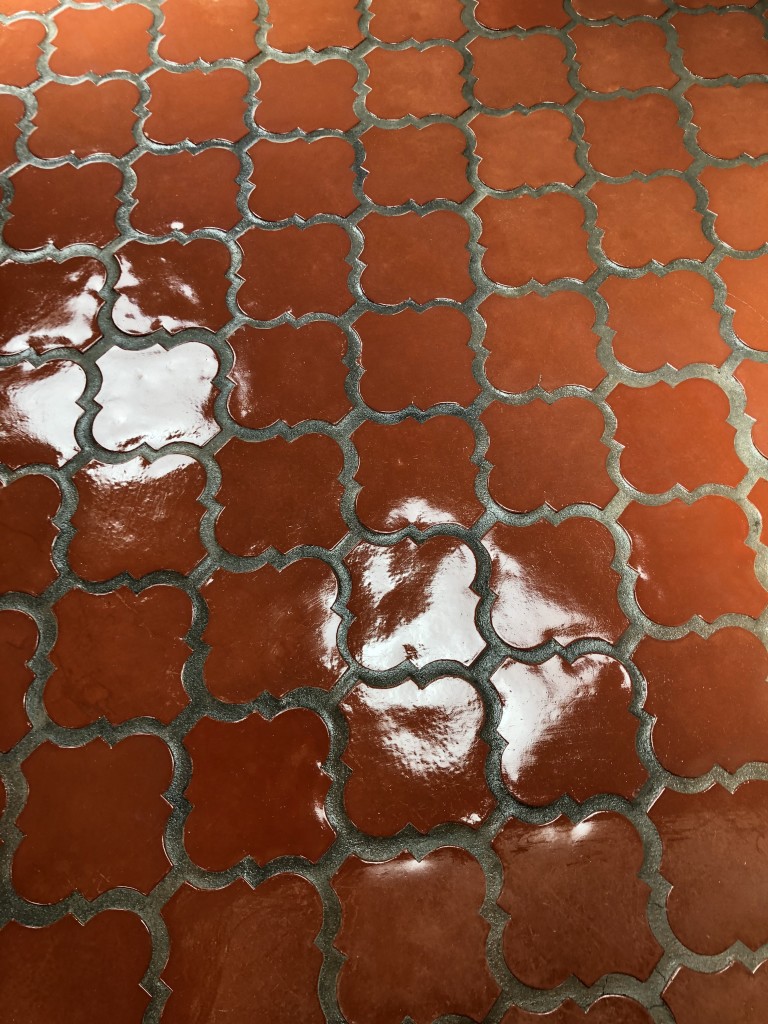 Spanish oak terracotta tile stain
This is the effect we get when using a redish brown color. On Saltillo tiles it looks like a beautiful fox depending on the tile, it can almost look copper like it did on some manufactured saltillo tiles we refinished and restored . The surface was much denser because these weren't very porous so each tile took the color its own way. We also stained the already brown grout to an oyster grey colored grout, with toothbrushes (super custom).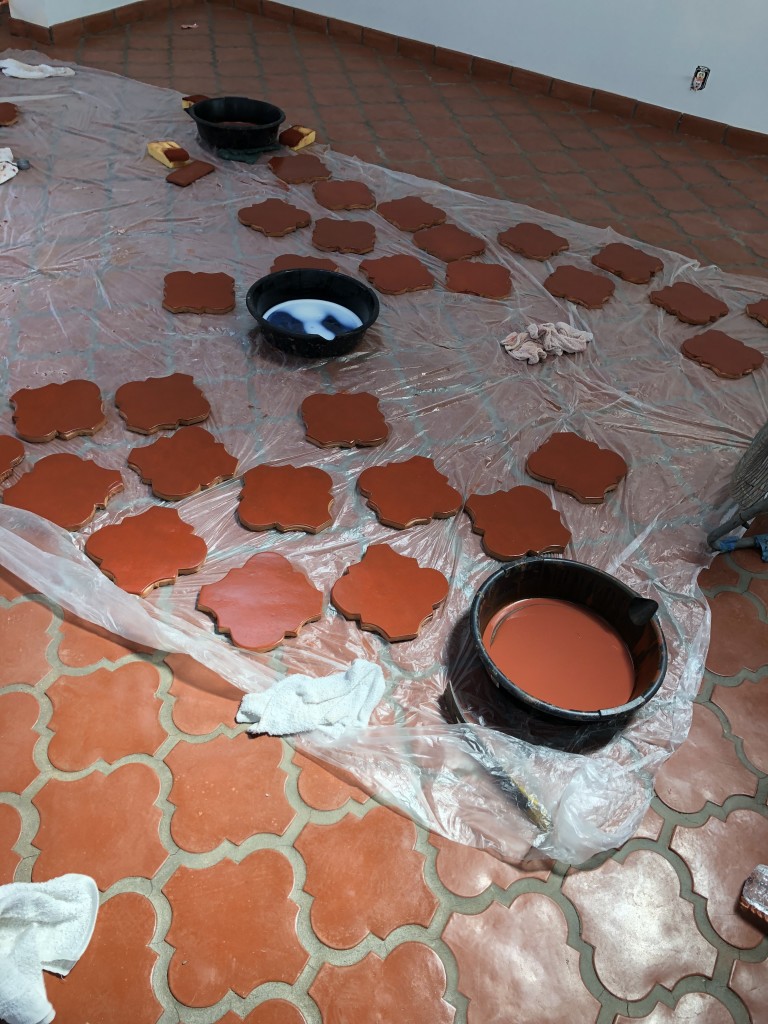 After sealing the stained tiles and grout with a gloss sealer finish, the results … well that's why we use pictures and videos. You have to see those to understand!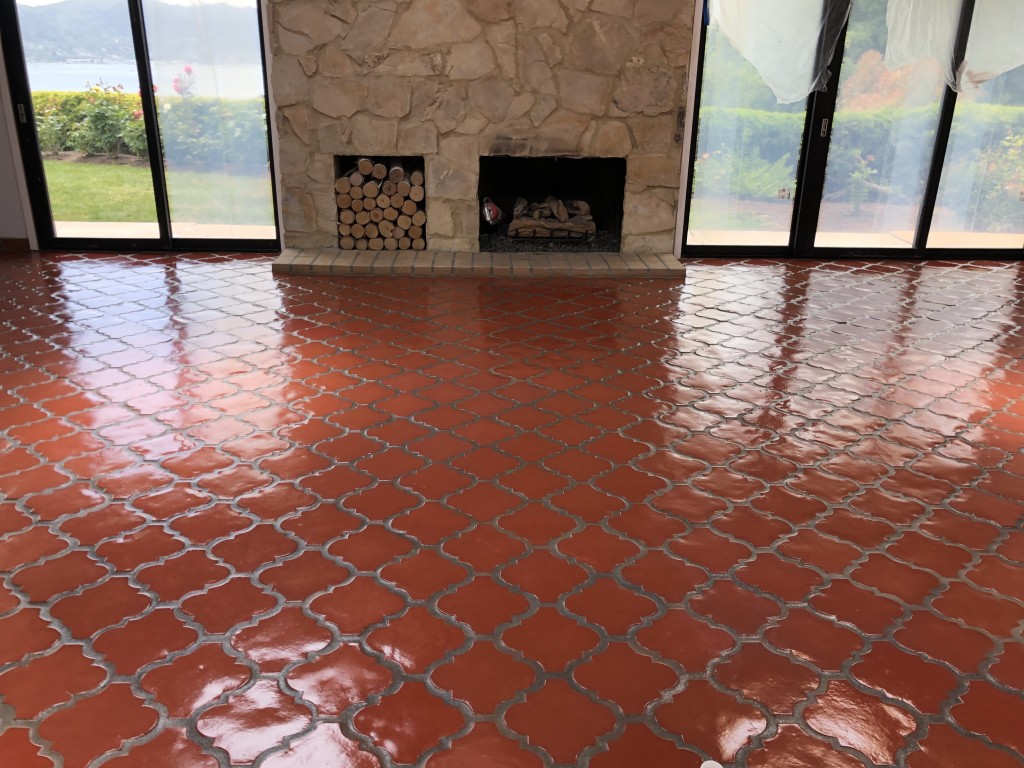 50 Shades Of Grey ( A Surprisingly Odd Beauty) Saltillo Tile
When staining Saltillo tile or terracotta tile gray the possibilities are unlimited. The key is applying enough coats to kill the color fighting through, but when thats done, grout color comes to mind next.
Light colors with gray can brighten the floor a shade such as antique white darker grout colors can darken the whole floor a shade. Just something to keep in mind if you are gravitating to the gray beauty. We named this color Lulu Gray after one of our clients named Lulu . Share this page with people you know with terracotta tile because a lot of time they just don't know their options, and if you find the advice helpful, they would too and we'd love you for it!
And for really in depth informational videos on everything terrcotta tile restoration related subscribe to our channel (here)
Terracotta Tile Stain Removers
In order to start staining your terracotta tiles, we nay need to remove an old stain previously applied to the floor. Stain removal from saltillo tiles is done using a chemical process, (no machines because sanding is bad, and they're messy)to remove and strip away all of that existing old sealer and stain. When you skip the process you end up with a peeling floor, a headache, and nightmares that you could have prevented if you had just LISTENED TO THE TILE DR!
The Cost To Stain Saltillo Terracotta Tiles
Due to the restoration factor you will be looking at the cost to restore your terracotta tiles as well as to stain them. Good restoration done by hand and sealing  and staining will be an investment of approximately $12.00 to $20.00 per sqft. The difference is in what was previously done to the floor an was the floor maintained or neglected because this determines how much product we need to fully remove that coating off of the surface of the terracotta tile.
Conclusion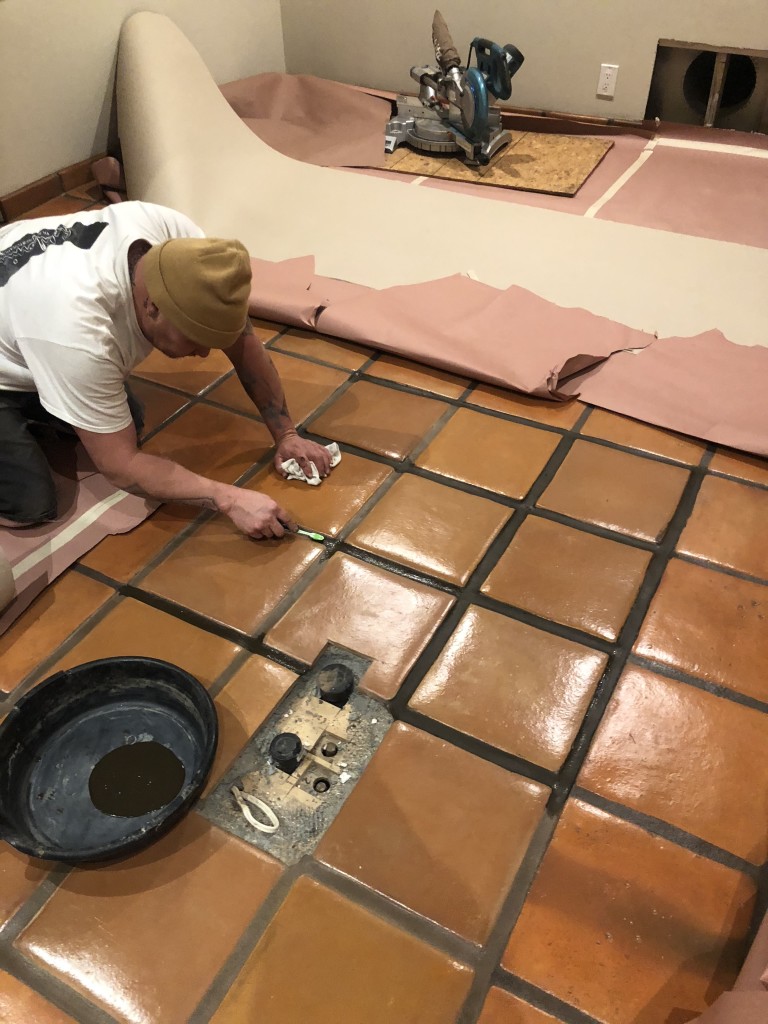 If you're wondering what colors go with Saltillo tiles and what are the best color grout for saltillo tile you can watch and learn from our videos (here)
Saltillo tiles and terracotta tile can be stained virtually any color you choose. I chose to showcase these colors because they are the most popular and look the best the mixing with the hues of pink and white on the saltillo tiles.
Call or email to get your tile looking amazing, and the colors you only dreamed of. Get on the busy schedule ASAP. We are limited to a few projects yearly based on the quality we provide and our small size (it takes a long time to learn this art).
Get on the busy schedule asap to ensure your spot!
or contact