We can custom stain terracotta tiles any color you like, but first, you should get the floor refinished and cleaned correctly
Traditionally, stained Terra Cotta pavers come in colors such as Spanish Oak (which is like a brown color) , Fresca Peach (Which is like a peachy color), Piso Blanco (a white wash), and Adobe Red to name a few of the commonly used colors.You can see these colors all through homes in California and the bay area. Now people are using more exotic colors such as lime green or burnt orange and a few others.
Stains are really nothing more than very thin oil or water-based paints. stains are comprised of pigment, a carrier (the base of the stain such as water or oil), and a binder. Using a thin varnish (oil-based) or acrylic latex (water-based) as a binder, ground particles of natural and synthetic minerals are added to make stains. Stains should be stirred frequently.
Stain all your terra cotta pavers with one batch of stain from the beginning of the life of the floor, Whether it be brand new right out of the box or a pre-existing floor that you inherited.. Make sure you have enough stain to do 20 extra pre stained pavers just in case down the road some get cracked, chipped, or badly damaged. I don't care what anybody tells you, make a master batch of stain. the reason for this is that you thin the stain out so that it is not so thick. and If your measurements aren't consistent all the time, you could make a batch too thick or too thin. NOTE: your stains consistency is important because you want to apply 2 to 4 thin coats to get the desired look for your saltillos, Putting on thin layers of the stain will keep it from getting blotchy, going on unevenly, or worse, leaving streaks. Thats what happens to people that try to put on 1 or 2 thick coats. Also with the latter, the stain looks painted on, hiding characteristics and natural colors. The thin layers all leave a nice hue on the Saltillo pavers, making them appear to be one color from an angle, but when you stand directly over the pavers you can see the blemishes and the true patina come through the stain. I find that most people prefer it done this way over the heavily painted look. A quality stained paver should look as if it was manufactured that way.
Stain Saltillo Pavers Right out of the box before installation, or after refinishing pre-installed pavers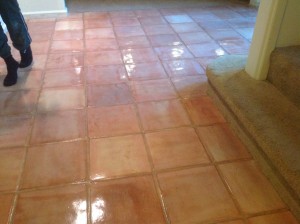 These are White wash custom stained saltillo tiles.
You're either going to stain your pavers right out of the box, or stain an old existing floor. Both are different. The new tiles are harder to stain because they are like sponges. They suck the carrier right out of the stain, leaving just the pigment which is streaky and blotchy looking. You really need to dilute the carrier in your stain, whether your carrier is water, oil, silicone, etc. Once again apply thin layers, especially to the first two. After the first two coats, the pores in the paver begin to fill with stain. Any extra applications of stain will go on easier but will also deepen the color. REMEMBER, whenever you like the hue stop applying layers of stain, whether it be the first or the fourth coat.
Let us handle the challenges of your inherited saltillo pavers so you can make the most of your time AND renovate your Terracotta tile floor
The older antique saltillo pavers that you may have inherited, have another set of challenges of their own. Such as, grout joints (if you get the stain in the grout you will be sorry later when you have to take it out of the grout), walls, carpets, and stairs (these last three pose the challenge and risk of getting stain on the walls, carpet and stairs that the floors run up against).
Proper Preparation is Key in staining, cleaning, and refinishing of terracotta pavers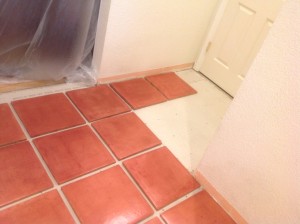 The other challenge you have is preparing the antique saltillo floor for staining. You need to first strip off all existing stain, sealer, and wax with a SOLVENT BASED SEALER BY HAND and NO MACHINES. NEVER. Not on clay. And don't be lazy. Seriously, to be truely detailed and meticulous, it needs to be done by hand. That way you can get the edges along stairs, baseboards, carpets, in corners, behind doors, in the closet, behind the toilet, etc. Once prepped correctly, the pavers are ready to stain. Now stain your Saltillos as mentioned earlier. In the next article on California Tile Restoration, I will be discussing Sealing and Waxing Saltillo pavers. This is the next step after the staining process.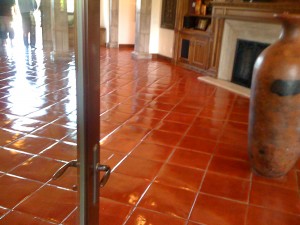 Custom Stain your terracotta pavers and saltillo tiles today! Call Fritz Wittmann or email us at..
(707) 384-1172
California Tile Restoration