Keep the value of your home by maintaining your pavers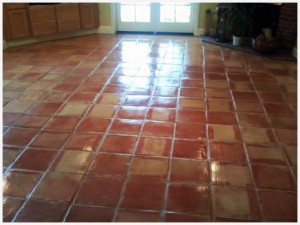 Clay paver tile maintenance is exactly that, maintenance. When a lot of people choose the terracotta tile, they don't realize how much is involved in maintaining the floor. Once families begin to live on these floors they realize fast that kids, pets, and lot's of foot traffic walking on the pavers everyday, are not going to be their ally. Walking everyday alone scratches the sealer and floor polish. Not to mention, gets the floor dirty, waring the sealer polish unevenly in the traffic areas (like the kitchens and hallways). If not maintained correctly, eventually you begin to ware through the protection layer of the paver all together. The outter crust layer of the clay paver wares down to the soft clay inside of the paver and once the ware is inside the paver, then maintenance is long overdue and you may want to consider replacing those damaged clay paver tiles. Over time, these problems bring the value of your home down and you can lose a lot of money if you eventually want to sell the property.
5 tips that guarantee a bulletproof glossy finish and ultimate floor protection
NOTE: These are considering your floor was properly sealed from the beginning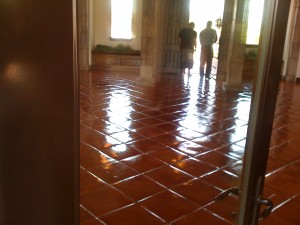 1) Sweep or vacuum thoroughly, getting up all loose human hair, pet hair, food, dirt, etc
2) Scrub the clay paver and grout on your hands and knees using a wax stripper and making sure you rinse thoroughly and often. cleaning it this way will get it clean and dull it out so that when you re-apply more sealer, it fills in the scratches.
3) Dry the floor completely then vacuum and five the floor another thorough sweep.
4) If the clay paver tiles need sealer, add a coat or two, filling in scratches and immediately bringing the floor back to a magnificent shine all while providing a water tight seal.
5) Lastly, apply 2 coats of floor polish (note if the floors are not sealed right, the floor polish is useless. It will sink in and it needs to sit on the sealer.) The polish prolongs the life of the sealer. Sealer protects the tile and grout, while floor polish protects the sealer. We call this process bulletproof because nothing should be able to penetrate the surface.
You add immediate value to your property when you maintain your pavers and you can eliminate any future out of pocket expenses that may occur with improper maintenance such as replacement. replacement happens quite a lot when you don't have a proper maintenance schedule. Maintenance over time will save you more then replacement over time (and the floor looks great more often). Keeping well maintained clay pavers will pay its dividends in the long run especially when you go to sell the property and the potential buyers love the nice patina the pavers have acquired over the years because of your proper maintenance.
Contact California Tile Restoration today.
Email or Call Fritz Wittman
(707) 384-1172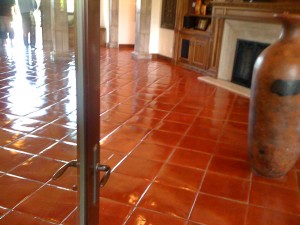 California Tile, refinishes & seals clay pavers all through California cities and counties such as Marin county, Alameda, San Mateo, Madera, Alpine, Santa Clara, Amador, Mariposa, Santa Cruz, Mendocino, Shasta, Butte, Calaveras, Sierra, Merced, Siskiyou, Madoc, Colusa, Solano, Mono, Contra Costa, Monterey, Del Norte, Sonoma, Stanislaus, Napa, Eldorado, Inverness, Nevada, Sutter, Fresno, Placer, Glen, Tulare, Plumas, Humboldt. As well as Inyo, Sacramento, Trinity, San Benito, Kings, Tuolumne, Lake, Yuba, San Francisco, Yolo, Lacen, San Joaquin, San Diego, Los Angeles. San Francisco, San Jose, Oakland, Emeryville, Berkeley, Marin, Fairfax, Greenbrae, San Rafael, San Anselmo, Bolinas, Kentfield, Tara Hills, El Cerrito, Rollingwood, Hercules, Rodeo, Pinole, Port Costa, Richmond, San Pablo, Kensington. Clayton, Hasford Heights, Concord, El Sobrante, Antioch, Crockett, Bayview Mountainview, Byron, Discovery Bay, Timber landing, Oakley, Morgan Hill, Acalanes Ridge. Santa Clara, Campbell, Cupertino, Piedmont, Gilroy, Salinas, Milpitas, Los Altos, Los Gatos, King City, Palo Alto, and we travel to many more areas.