Stop Wasting Time and Save money in the long run
Buffers, Sanders, Steam Machines, Carpet Company Machines, & High pressure washers are great at ruining tile, pavers, and bricks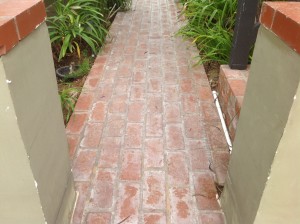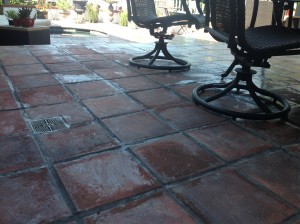 Buffers in my opinion are a joke. They are for lazy people who want things to be fast and easy, and when it comes to tile and grout. It's a half job, not detailing, just removing surface dirt and wax, not the sealer. Tho this does work on linoleum and other flat surfaces. Sealer removal would melt the buffer pad. Buffers are a flat pad or a bristle brush that are level as they spin around and around over the tile and grout. The grout sits lower than the buffer.
How does it get the dirt and wax out of the grout?
Easy.
It doesn't! Maybe some, but, not all of the grout leaving it blotchy and unevenly clean. Saltillo Pavers, Flagstone, Slate are varied in thickness and are all irregular shaped and it's not that the floor itself isn't level, it's just that all of pavers , slate, and flagstone are all gauged differently. For instance, one tile can be a 1/2 inch thick and the next piece will be exact evenness with each other. There for the buffer, it slides over & misses the lower areas and removes the high areas, but what happens is people use a wax stripper so it will get the finish off those high areas. So they put down more of the stripper and hit it again, and this time, they start to sand with the soft clay with the buffer pad, removing all of the surface which starts to mess with the integrity of the Paver, Slate, or Flagstone.
Machines Ruin Baseboards, walls, cabinets, and low lying surfaces.
I have also seen walls and baseboards ruined from the buffer slamming into them as well as buffer overspray. We have see water from the buffing process, run under the hardwood floors and warp the planks, turning the finish on the wood white, hazy, and cloudy.
Quality and attention to Detail
In this line of work, it's all about the eye for detail. Getting those hard to get areas that machines don't reach nor even attempt.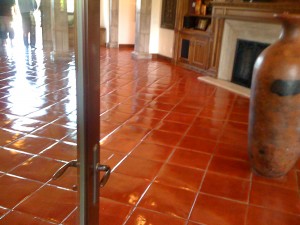 For example, behind toilets, doors, in closets, as well as along carpets and wood floors, corners, and under cabinets. "I am the Machine" thats what I say.
Saltillo Pavers Sanded equals DISASTER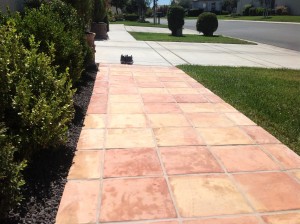 Palm and Belt Sanders are just plain wrong. We are tired of reading articles online, or hearing from the customers that the other guy who looked at the floor said he was going to sand the mexican pavers..
When you sand the surface, you're sanding off that protective layer, which is about as thick as a quarter. How I describe it to my clients, the pavers are like french bread. Hard outer layer and soft inner layer. when you sand off that outer layer, you're into the soft clay, which will begin to deteriorate slowly with time.
Or, if the pavers are sealed with a shiny gloss topical coating sealer, it does help conceal the damage, but it also magnifies the sanding. Especially if they do not sand the whole paver evenly and those areas that they missed will still be the original color while the others look uniform.. The blemishes, colors, and natural characteristics are sanded away…
High Pressure Washers Kinda Work
For obvious reasons, high pressure washer can only be used outside.I don't completely dislike high pressure washers, as they do have a purpose, such as they are great for cleaning concrete. Other than that, they damage bricks by breaking down the surface and not necessarily right after you clean them, but over time the surface will begin to turn to powder.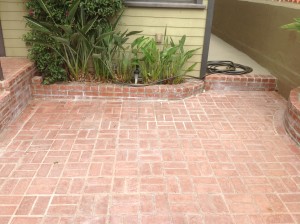 What causes pressure washer damage
On Flagstone and Saltillo Pavers, I have seen lines in the surface where the side to side motion of the person using the pressure washer, blasts off the surface (microscopically) changing the color in areas they hit. When fanning side to side, it's hard to keep the pressure washer nozzle completely flat and the proper distance away from the paver, and when the person using the machines dips up and down, that's when the lines start to happen. The closer to the top off the nozzle the floor is, the stronger the pressure.
For instance, If you need to keep the nozzle 10 inches from the floor while you're working, you cant help but to dip down to about 3 inches. That closeness is what causes the damage, and then you re-adjust back to 10 inches, and then back to 3 or 4 inches repeating this perpetually as you move through the area you're working.
They also saturate the pavers, flagstone, slate with water and they're all porous like sponges. They take a long time to dry out, which comes out the pavers in the form of calcium or efflorescence. Depending if there is a topical Sealer which will begin to turn white and hazy.
Stick to carpet cleaning, not tile refinishing. Carpet cleaners are just that, not tile and grout cleaners. They dont get the edges, or under cabinets,behind toilets, and other hard to reach ares. Stop settling for 2nd rate work because you don't know that it can look better and be cleaner. How does it get soap scum and body oils off of the tile and grout in your shower? How does it clean the greasy spot on your kitchen counters and backsplash? How? You can't so stop it, just stick to carpet and rugs. What if it needs grout repair or cracked tile replace, now you will need to hire another company to do that.
If your Mexican pavers have wrinkles, then the Steam machine is for you!
Have you seen those late night QVC type shows where they are selling someone's newest and greatest creation, such as the steam machine? They show it getting wrinkles out of clothes and drapes, and then, and this is where they insult me as a tile cleaning professional, they run over some fake dirt on tile and grout and go oh wow it cleans GREAt!
Yea Right.. Every customer I have ever worked for who had one of those steam machines, has it hiding in the back of the closet with inch of dust on it, and they tell me it did nothing to their tile floor. To take it a bit further there not very good at steaming out wrinkles either. They don't work on topical coating I know for a FACT. The hot steam turns the finish hazy and cloudy. Once again there is no easier way to clean ceramic tile and grout, on Lime stone or travertine and saltillos, stop trying..
Contact California Tile Restoration today.
Email or Call Fritz Wittmann
(707) 384-1172
[email protected]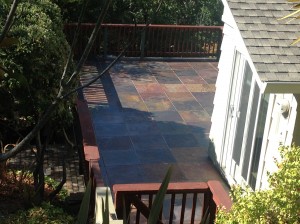 California tile restorations restores and cleans mexican tile, and more all throught California and the nation in counties and cities such as San Francisco, Sacramento, Berkeley, Marin county, Solano County, Tiburon, Belvedere, Oakland, Ojai, Aptos, Salinas, Elk Grove, Auburn, Folsom, Los Angeles, Palm Springs, San Diego, Turlock, Gilroy, Livermore, Orange County, Placer County, Blackhawk, Crow Canyon, Danville, San Mateo, Daly City, Angels Camp, Oakland, Piedmont, Antioch, Stockton, Modesto, San Clemente, San Bernadino, Castro Valley, San Jose, Lucas Valley, San Fernando Valley, Wine Country, Napa Valley, Bay Area, Los Altos Hills, Palo Alto, Monterey, Milpitas, Tracy, Calistoga, St. Helena, Napa County, Pacifica, Santa Rosa, Sonoma County, Petaluma, Long Beach, Hollywood, Beverley Hills, Las Vegas, Phoenix Arizona, Reno, Berkeley, Emeryville, Strawberry, Ukiah, Chico, Davis, Dixon, Woodland, Jackson, Half Moon Bay, Pleasanton, Contra Costa County, Concord, Walnut Creek, Pleasant Hill, Richmond, Pinole, Hercules, Carlsbad, Laguna Beach, Seal Beach, Woodside, Standford, Lake Arrowhead, San Anselmo, Kentfield, Galt and many more.