Need to fill in an area with Tiles or Mexican Pavers?

In these pics above, you can see that they patched the floor with concrete where they removed a wall. The customer asked me if I could come up with something that would look good even though the grout joints didn't line up and the tiles were impossible to find.
You can see in these pictures above that after getting out the concrete, we found surprises under it like wires, and an old vent. You can see I also started cutting 8 inch Saltillos down to 7 1/4 by 7 1/2 and then sanding the edges round, so that they look real natural.
We removed 4 pieces of wood from the floor, that they used to fill the holes before they patched it with concrete. I ripped the planks out to get the foundation as level as possible, and i finished cutting the tiles down to size.
Terracotta Mexican Paver staining & Grouting to match existing tile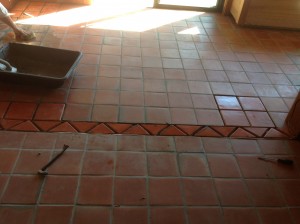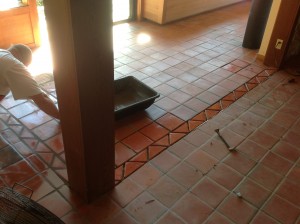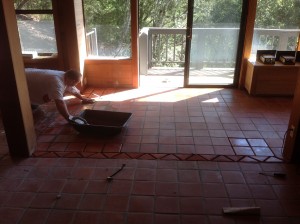 In these pictures you can see I custom made a stain to make the new mexican pavers I cut, match the existing color. I installed and grouted the pavers.
I used a diamond pattern to break the floors up, and it gave the appearance that the grout lines were lined up on each side. It looked intentional like it was part of the floor design.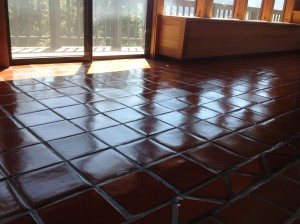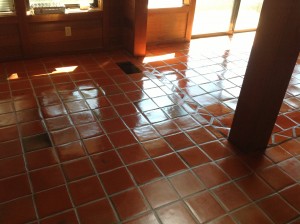 In these Last Pictures you can see that the final seal has been applied, bringing my repair of the mexican pavers and the existing tiles together. Looking like an almost perfect match.
California repaired these Mexican Saltillo Pavers in St. Helena California.
Contact California Tile Restoration today.
Email or Call Fritz Wittmann
(707) 384-1172
[email protected]
CTR has refinished and replaced tile all throughout northern and southern California in counties and cities such as, Marin, San Francisco, Santa Clara, Contra Costa, Solano, Napa, Alameda, Sonoma, Petaluma, Sacramento, Belvedere, Tiburon, Sausalito, Mill Valley, Kentfield, Greenbrae, Corte Madera, Novato, Lucas Valley, Inverness, Tomales Bay, Blackpoint, Blackhawk, San Anselmo, Fairfax. Also Larkspur, Marinwood, Orinda, Lafayette, Danville, San Ramon, Alamo, Walnut Creek, San Jose, Santa Cruz, Aptos, Monterey, Lake Tahoe, Grass Valley Placerville, Natomas, Carmichael. Rio Vista Brentwood, Antioch, Pleasanton, Livermore, Lodi, Gilroy, Castro Valley, Silicone Vally, Morgan Hill, Salinas, Cotati, Saratoga, Sebastapool, Oakland Hills, Newcastle, Merced, Modesto, Stockton, Los altos Hills, Palo Alto, Redwood City, Woodside, Atherton, South San Francisco, San Mateo, Emeryville, Stanford, Foster City, Kensington. Milpitas, Piedmont, Dixon and we do travel up and down the coast to Los Angeles, San Diego, Anaheim, Orange County, San Bernadino, Las Vegas, Palm Springs, and virtually anywhere mexican pavers can be found