What Is The Best Sealer For Saltillo Tile?
There are basically 2 types of sealer for saltillo tile and terra-cotta clay bodied tile. A topical high shine or low shine sealer or there is penetrating sealer and enhancers.
Sealing Indoor Saltillo Tile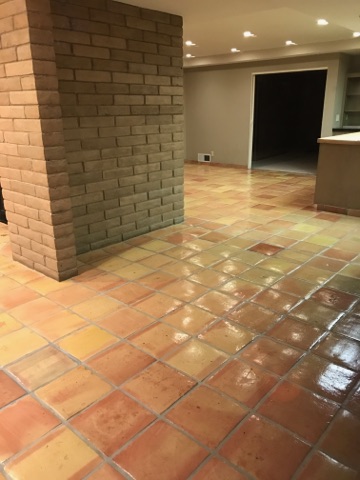 On your inside Saltillo tile floors you're going to want to use a topical coating sealer (the sealer provides a protecting barrier between the saltillo and grout). This is so that you can walk on the sealer not the saltillo itself, because there's only a thickness of about a quarter of surface.
Once you break through that quarter thick surface you get into the softer clay on the inside and now you messed with the integrity of the tile and they begin to deteriorate and it exposes the darker clay from the inside.
So the object of the sealer is to protect the saltillos and grout.
So no matter what happens to them they can be stripped and resealed which will get rid of scratches and dirt exposing the now clean saltillos because the scratches and dirt were in the sealer not the surface of the Saltillo.
Low luster and high luster and high shine sealers work the same way just shinier than the other, but you apply the same amount of coats using the same technique. There's water based sealers, lacquer, silicon, linseed oil, turpentine, floor polish , beeswax just to name a few. They all have there pros and cons.

Over the years I've narrowed it down to which sealer gives me the best end result and is durable and easy for clients to maintain. Water based sealers are the most customer friendly to use, but some are real thin and more watered down.
Some brands are really thick and don't self level very well, leaving swirl marks and small bubbles.
The companies that sell these sealer obviously have no clue how to use their own products, I know this by the horrible instructions not the side of there bottles.They will have you confused and unprepared giving out advice and techniques that are too complicated and not practical for your average saltillo tile floor owner. most likely your still education yourself about these harder to maintain tiles than you thought.

Sealing Outdoor Saltillo Tile
Your outside saltillo tiles need to be approached differently than your inside saltillos when you begin to get sealed. Water is the enemy of exterior saltillos and grout. It breaks down the sealer, saltillo itself, and the grout. You must keep your outside saltillo tile and grout sealed every few years, all these sealers saying it last 20 years BLAH BLAH  they work but not that long .
Using Penetrating Sealer To Seal Saltillo Tile
Penetrating sealer , this sealer leaves the Saltillo and grout real natural looking, but it has a water tight seal. An enhancing penetrating sealer as the same features as the regular penetrator, but it makes it pop and adds depths to color and highlight them.

The shiny sealers fail outside guaranteed, I don't care who or what product they recommend it all fails outside. it turns cloudy, it peels and blisters, and most important of all is that topical coating shiny gloss sealers are SLIPPERY and you can break you neck if you fall, I've had clients tell me their dog slipped and  tore its hind quarters.
Stop wasting your time, energy, and money, on solutions that JUST DON"T WORK!
Planning Your Next Remodel Project?
Call or E-mail
HURRY because our schedule fills up fast so secure your spot!
Contact California Tile Restoration
Email or Call Fritz Wittman
(707) 384-1172
We restore saltillo tiles in all cities and counties throughout northern and Southern California such as, San Jose, Marin, San Francisco, Sacramento, Daly City, Tiburon, Belvedere, Carmichael, Natomas, Davis, Fanta Rosa, Napa, Petaluma, Las Vegas, Reno, Walnut Creek, Santa Monica, and much more!