High Quality Mexican saltillo tile staining and proper sealer application to protect the stain.
For long lasting beauty and long term durability, you need to be very detailed when staining and sealing your saltillo tile floors. Like everything, preparation is most important, and the saltillos must be stripped of all the existing coating.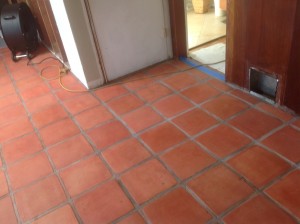 4 reasons you must be detailed when staining saltillo tiles

streaking (which makes the saltillo tiles looks artificial, not natural)
Overstaining which becomes a more painted uniform look.
  Getting excess stain in the grout,  because you have to remove it before you seal the tiles, and there are four more grout joints which will make removing it from the grout a lot more tedious, and all the surrounding surfaces such as walls cabinets and doors etc can be a nightmare to try to clean.
Puddling the stain, puddles make the stain go on blotchy and modeled looking.
Tweet: Quality #Saltillo tile staining done the CORRECT way
3 professional tips to have results like the pros when staining saltillo mexican tiles
Dilute the stain 3 cups of water to 1 cup of stain to keep it from streaking and going on to heavy where it looks painted (NOTE: add more water if the stain's still heavier then you would prefer)
Use a yellow grout sponge ( found in the tile section of your local home depot) and cut it in half so that it fits your hand perfectly. Notice the 2 rounded edges at the end you will use to help control the stain so that you can keep your overlap to a minimal trying to keep it out of the grout as much as possible (unless you like that look, then I would stain the grout as well)
Use a wire brush and hot water to remove the excess stain that gets in the grout.
After the staining process is complete, we must seal the stained saltillo tiles for maximum protection
If saltillo tiles aren't sealed correctly after staining many thing could go wrong.
You could wipe off stain and have blotchy looking tiles.
you could overseal and cause streaks in the sealer that will reflect in the light across the whole floor.
You could under seal because you don't realize the pores of the clay tiles have been filled by stain and the floor will look great in less coats of sealer, but will not be fully protected say if something heavy is dragged across the floor.
Get your Saltillo Tile stained and sealed correctly today!
Call or E-mail California tile restoration
(707) 384-1172
California tile restoration custom stains saltillo mexican tile all throughout California and nationwide in cities such as San Francisco, San Diego, Oakland, San Jose, Sacramento, Los Angeles, Anaheim, San Bernadino County, Fresno, Modesto, Solano County, Santa Rosa, Santa Cruz. We also stain all shapes and sizes of spanish tile such as 8 x8, 12 x 12, 15 x 15, and baseboard tiles, dots, pickets, fleur de liz, san felipe tiles, tecate pavers, and more in cities such as Marin county, Tam Valley, Mill Valley, Sausalito, Strawberry, Belvedere, Tiburon, Corte Madera, Larkspur, Kentfield, San Anselmo, Fairfax, San Rafael, Terra Linda, Marinwood, Lucas Valley, Pacheco, Novato, San Marin, Blackpointe, Tamales Bay, Bodega Bay, Ojai, San Jeronimo, Sebastapool, Petaluma, Napa, Cotati, St. Helena, Yountville and many more.