Strip That white Hazy Sealer off your outside Mexican Pavers Now!
These Mexican Pavers belonged to a couple in Rio Vista California
As you can see in the pictures above, these 12 by 12 Mexican Pavers have begun to turn white and hazy. The tiles had started to deteriorate on the surface of some of them. This floor was originally sealed with some sort of glossy shiny sealer. This is ALWAYS a bad idea for exterior pavers for a number of reasons including turning white and hazy.
Top 10 Reasons You Should Never Use High Gloss Sealer Outside
(Proper name is Topical Coating Sealer)
The Weather

Sprinkler Systems overspray
Foot Traffic
The sealer will peel (like when you get a sunburn)
the sealer blisters and bubbles
bleached out by the sun
Glossy Topical Coating Sealer makes them slippery!!
Harder to clean (embedded dirt in the sealer)
Tiles turn white

the finish turns hazy and cloudy
Mexican Paver Stripping And Sealer Removal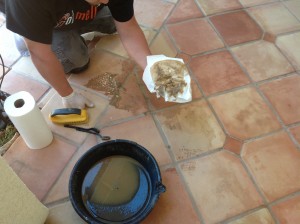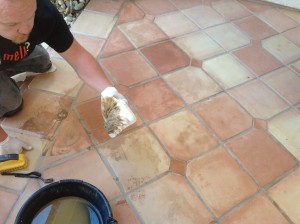 In these pictures above, I am holding up the rag i'm using to wipe up and remove the sludge pile of dirt and sealer. You can see how thick and dirty the the tiles are, I had to strip EACH square and surrounding grout joints 4 times!
Natural Color Enriched Non-Slip Mexican Saltillo Pavers
The floors have been stripped, cleaned, and now sealed with a penetrating sealer. You can see that the tiles are not perfect due to the deterioration and water damage compounded over time, but, they looked a whole lot better restored and the sealer gave them some depth. The customer's main concern was the removal of the glossy sealer because it was making the saltillos really slippery whenever they were wet (like when the sprinklers water the lawn next to the tiles). She actually fell and broke her hip. The customer was real happy because not only did we make the tiles look better and more natural, but we also gave them a water tight seal that will slow down any future damage and a beautiful non slip surface.
Contact California Tile Restoration today.
Email or Call Fritz Wittmann
(707) 384-1172
Here you can see the subtle difference of stripping, cleaning, sealing, and enriching the color.
California Tile Restoration refinishes Mexican Saltillo Pavers in all counties and cities throughout california including but not limited to San Francisco, Marin, San Rafael, Sacramento, Aptos, Solano County. Tiburon Rio Vista, Davis, Concord, Walnut Creek, Danville, San Ramon, Dublin, San Jose, Milpitas, Gilroy, Capitola, Watsonville, Scotts Valley, Alameda, Fremont, Piedmont, Albaney, Hayward, Pleasanton, Berkeley, Livermore, San Leandro, Newark, Union City, Emeryville, Oakland, Los Gatos, Los Altos, Monterey Bay, Half Moon Bay, Daly City, South San Fransisco, Santa Cruz, Santa Clara, Foster City, Tomales Bay, Citrus Heights, Galt, Elk Grove, Isleton, Folsom, Rancho Cordova, Calistoga, Napa, St. Helena, Wine Country. Also Yountville, Las Vegas, San Carlos, Woodside, Brisbane, Colma, Lodi, Pacidfica, Menlo Park, Cotati, Santa Rosa, Sebastapool, Ojai, Ukiah, Lucas Valley, Fairfax, and many more