Can you stain terracotta tile?
they ask me constantly and yes you can, they are very porous tile so if they are brand new the technique for staining is different compared to the technique of staining restored tile.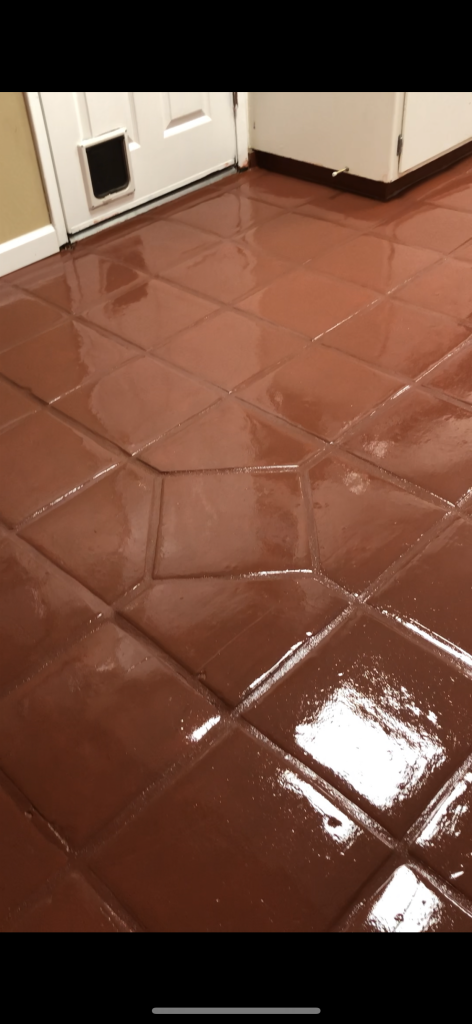 Changing the color of terracotta tiles is a great way to update terracotta floors. If they are really orange and yellow you can kill that color with a nice dark walnut color or a white wash saltillo will always give a modern feel and not look so outdated especially if you are in a house that's not Colonial or Spanish in designed architecture.
Staining saltillo tile grey and there are many shades of grey is really popular right now, I see it all over in really expensive houses, in the multimillions or in regular family homes.
So is saltillo tile outdated
is saltillo tile in style, is saltillo tile modern and are terracotta tiles fashionable? I get asked these questions all the time, I think they are, I see them in every style house you can imagine they give a rustic antique not so perfect look that a lot of people really love.
We call them perfectly imperfect and staining them any color that we can to match your color scheme will add that touch of modern style and fashion that you are looking for. The stain highlights the imperfections of the terracottas surface and once you apply that low luster sealer it will pop!
Is saltillo tile a natural stone
Or is saltillo tile ceramic? These are more important questions because saltillos are clay and are often imitated by companies that try to make ceramics look like natural clay tiles and natural stone is porous like terracotta, but can't be stained like terracotta. You do need to seal it like terracotta tiles so that you fill in the pores with sealer so that they won't stain with oils and greases.
Painting Terra-Cotta Floor Tiles
Can terracotta tiles be painted? You don't paint them, you STAIN them. If you paint instead of stain, you will have problems with adhesion.
Paint is too thick and will begin to peel over time, especially if you don't prep the tile right before you stain them. Stain is more watered down and spreads evenly throughout the clay of the terracotta, it adds a nice tone to the tiles where you can still see the natural color come through, like grain on stained wood.
Does painting terracotta tiles last?
No, but stain will so remember paint and stain are totally different products achieving different goals, my experience is that painting terracotta tiles is DIY. My clients prefer them to look naturally stained, plus once we seal in the stain they look incredible and protected by sealer so they will last forever, obviously if properly maintained.
Best paint for terracotta floors is actually not a paint at all, its a stain by aqua mix. They have multiple color options and you can mix and match the colors to create your own.
Can You Change The Color Of Terracotta Tiles?
Yes, you can, by tinting the tile with stain, the color options are up to your imagination. Now obviously purple, pink etc just doesn't look that hot, and doesn't go with to any peoples home decor but you can stain tile all one color or you can use a chocolate brown with a nice Ox blood red color and in some cases we can add a 3rd color mixed with 1/2 and 1/2 brown and red.
Call now or E-mail to get your Paver Tile Floor Custom Stained Today!
(707) 384-1172
Fritz Wittmann
California Tile Restoration
We also do pre stained hexagon tiles, saltillo pavers, super saltillo pavers, tecate pavers, lincoln pavers, spanish pavers, terra cotta pavers, barcelona pavers, mesquite paver, mexican paver,  8 INCH MEXICAN SALTILLO PAVERS, italian paver, spanish cement tile paver, QUARRY TILE PAVER, FRENCH PAVER, TURKISH GOLD PAVERS, PAVER STAIR TREADS, MEXICAN TALAVERA, EUROPEAN TERRA COTTA TILE FLOORING, MOJON MEXICAN PAVERS, ANTIQUE FRENCH PAVERS, RUSTIC SPANISH PAVER, MISSION PAVERS, 8 x 8 round edge pavers, 12 x 12 traditional pavers, OCTAGONAL MEXICAN SALTILLO TILES