When the Sealer is defeated by the elements, rain, traffic, etc
In this Video I'm showing the piles and buckets of sloppy goop that I have been stripping off the Lincoln Pavers and Grout. I know it's lacquer wet look sealer by glaze n seal because the home owner showed me the 5 gallon pale that the previous owner had left them at this beautiful patio with a swimming coping in Palos Verde off of Redondo Beach in Southern California.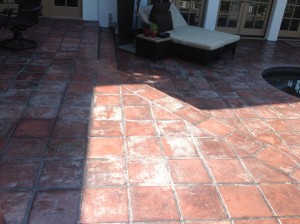 Lacquer sealers don't hold up to the elements like rain and water, on tecate pavers, saltillo tile pavers, mexican pavers, and terracotta pavers. These Lincoln pavers in the video didn't hold up well either. Water doesn't mix with lacquer. water starts to break it down slowly, every time you water the plants or it rains.
The Chlorine in the swimming pool water, breaks it down really fast as well. Lacquer gets hard, and looks great when it is first applied.
3 Most common Outside Mexican Paver Problems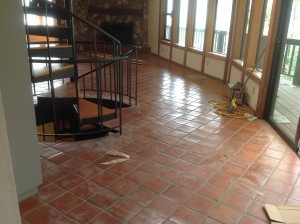 I have noticed in my 23 years experience that there are 3 thing that lacquer starts to do over time after it's been lived on.
The first thing is High Traffic Areas. These spots begin to wear especially on high edges of the pavers, and in areas in front of the sinks and toilets or in front of the stove and in the laundry room areas.
The second thing is that strong cleaners have a tendency to slowly soften the sealer and it begins to turn cloudy hazy and Over the years it gets worse and begins to flake and turn white. Like this job here and past jobs the lacquer begins to crackle, all over the floors and the moment moisture gets in the crackle it begins to turn yellow in areas where the sun beams on it alot over time.
And third, the elements of life. Get those pavers cleaned now
Contact California Tile Restoration today!
For Top Quality Mexican Paver Stripping and Refinishing Services
Email or Call Fritz Wittmann
(707) 384-1172
[email protected]
Mexican Pavers cleaned and sealed in all counties of California such as Marin County, Sacramento, Napa County, San Rafael, Petaluma, Santa Rosa, Calistoga, Oakland, Berkeley, Tiburon, Belvedere, Strawberry, Palos Verdes, Redondo Beach, Walnut Creek, Ojai, Torrance, Los Angeles, Orange County, Santa Barbara, Ventura, Rancho Bernardo, Rancho Santa Fe, San Jose, Salinas, Corte Madera, Las Vegas, Lake Tahoe, twentynine palms, Winters, Redding, Red Bluff, Palo Alto Los Gatos, Los Altos, Antioch, Capitola, Aptos, Saratoga, Wine Country, Carmel, Monterey, Santa Cruz, Carmichael, Natomas, Gold Country, Auburn, Placerville, Grass Valley, Reno, Jackson, Newcastle, Modesto, Merced, Visalia, Bakersfield, Fresno, Los Robles, Morgan Hill, Atherton, Redwood City, Burlingame, San Mateo, San Leandro, Union City, Livermore,Emeryviulle, Berkeley, Oakland, Piedmont, Lafayette, Orinda, Moraga, San Ramon, Blackhawk, Alamo, Pacheco. Brentwood, Benicia, Martinez, Vsllejo, American Canyon, Vacaville, Larkspur, Fairfiax, Inverness, Lucas Valley Marinwood, Jenner, Long Beach, Pismo Beach, Escondido Valley Center, Pala,