In these pictures, you can see this patio has 12 x 12 Lincoln Pavers that have white and cloudy on basically every tile, as well as all of the grout. The home owner who inherited the pavers about a year ago, decided that she was tired of the slippery failing High gloss Sealer on the patio. The pool only enhanced the problem making the sealed stairs and walkways extremely slippery when getting out. She wanted her pavers restored to a beautiful rustic look.
The first company tried some kind of stripper and a high pressure washer and as you can see in the pics, they only could get off some of the sealer off of the surface, but failed to get the coating that actually had a really good bond. The results were white and flakey tiles. They also started at 8 am. and only finished 100 square feet by 3pm and this is what it looked like. Also told the Home owner they couldn't do the project.
The Removal of Failed Lacquer Sealer | California Tile Restoration
In these pics you can see a sample that I showed the home owner, of how great the floor was going to look, plus I can tell how thick the lacquer is on the Mexican tiles. She showed me what the stuff was that was put on here and it was a major brand, there wet look sealer, but, the problem is water and lacquer don't mix and it begins to break down with scratches and high traffic. Like clock work they turn white and get worse as time goes on. I would personally like to thank them, because I make a great living removing it, from customers pavers all over northern and southern California, who made that regrettable mistake which ultimately cost thousands to fix and for that I am eternally grateful.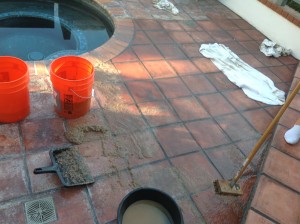 In these pics and video you can see we have stripped some sections and we're pushing along a huge pile of sludge. It's easier and more efficient to get off 90% of that lacquer wet look crap and then we comeback and meticulously detail the pavers and grout on our hands and knees to get it spotlessly clean and completely sealer free. We used roughly 70 gallons of stripper on this project, which is about 30 gallons more than similar jobs we have restored in the past.
The Lacquer Disaster Continues
In these pics you can see these five gallon buckets that we are filling with sludge. There is way too much sludge to try wiping up, so we ended up using roughly five full buckets to hall all that goop away, and even when we detailed, sealer stuck to the grout so good we had to scrub them with wire brushes 3 or 4 more extra times after the first 2 times we had already stripped them. The first couple of rows along the house seemed to be the thickest and the stairs were really thick too.
Oh boy, Stripping finally over, Thank Goodness
As you can see in these pics, our sealer removal process is complete, and it's down to the paver's raw state. The tiles have some sun bleaching in areas and some deterioration in some areas, but for the most part it looks just how the customer wanted. They have a nice natural patina and an old world rustic spanish style look to them, that compliments this gorgeous home in Palos Verdes in Southern California right next to Redondo Beach.
We sealed these mexican pavers with a non slip water tight seal, leaving these pavers with a element proof seal on the patio that will be enjoyable for a very long time.
Contact California Tile Restoration Today.
Email or Call Fritz Wittmann
(707) 384-1172
[email protected]
California tile restoration strips, cleans, and seals, mexican tile in Palos Verdes, Coranado, Torrance, Sacramento, Los Angeles, Orange County, Hollywood, El Dorado Hills, Santa Barbara, Malibu, Seal Beach, Corte Madera, Long Beach, Tustin, Anaheim, Santa Ana, San Clemente, Laguna Hills, El Cajon, Pacific Beach, Encinitas, Rancho Bernardo, Rancho Santa Fe, Valley Center, Escondido, Clairemont, Marin County, Tiburon, Belvedere, La Jolla, San Francisco, Natomas, Granite Bay, Folsom, Roseville, Auburn, Placerville, Grass Valley, Newcastle, Yolo County, Sonoma County, Napa Valley, St. Helena, Calistoga. Yountville, Napa, Sausalito, Piedmont, Dublin, Castro Valley, Livermore, San Ramon, Blackhawk, Alamo, Walnut Creek, Orinda, Lafayette, Moraga, Antioch, Brentwood, Rio Vista, Stockton, Merced, Modesto, Elk Grove, Monterey County, Aptos, Santa Cruz, Salinas, Gilroy, Campbell, Morgan Hill, Milpitas, Saratoga, Strawberry, Santa Clara, Atherton, Stanford, Los altos Hills, Palo Alto, Woodside, San Mateo, Burlingame, South San Francisco, San Bruno, San Leandro, Union City, Yuba City, Las Vegas, Carson City, Palm Springs, Palmdale, Tomales Bay, Bodega Bay, Sebastapool, Cotati, Windsor, Ukiah, Fremont, South Valley, Ojai, San Fernando Valley, Simi Valley, Phoenix Arizona, Flagstaff, Tucson, Chandler, Marina, Carmel, Watsonville, Pacheco, Martinez, Hayward, Manteca, Oakdale, Watsonville, King City, Julian, Temecula, Huntington Beach, Seaside, Castroville, Hollister, San Martin, Los Gatos, Cupertino. Mexican Pavers Cleaned and Sealed throughout Cupertino, Sunnyvale, Half moon Bay, El Granada, Cabrillo, Portola Valley, Silicon Valley, Mtn View, Pacifica, Daly City, Foster City, Belmont, San Carlos. Pavers Stripped in Rancho Palo Verdes, Hawthorne, Gardena, Manhattan Beach, Culver City, Century City, Calabasas, THousand Oaks, Pasadena, Bel Air, North Valley, Port Hueneme, El Rio, Camarillo, Solvang, Pismo Beach, Santa Maria, Laguna Miguel.