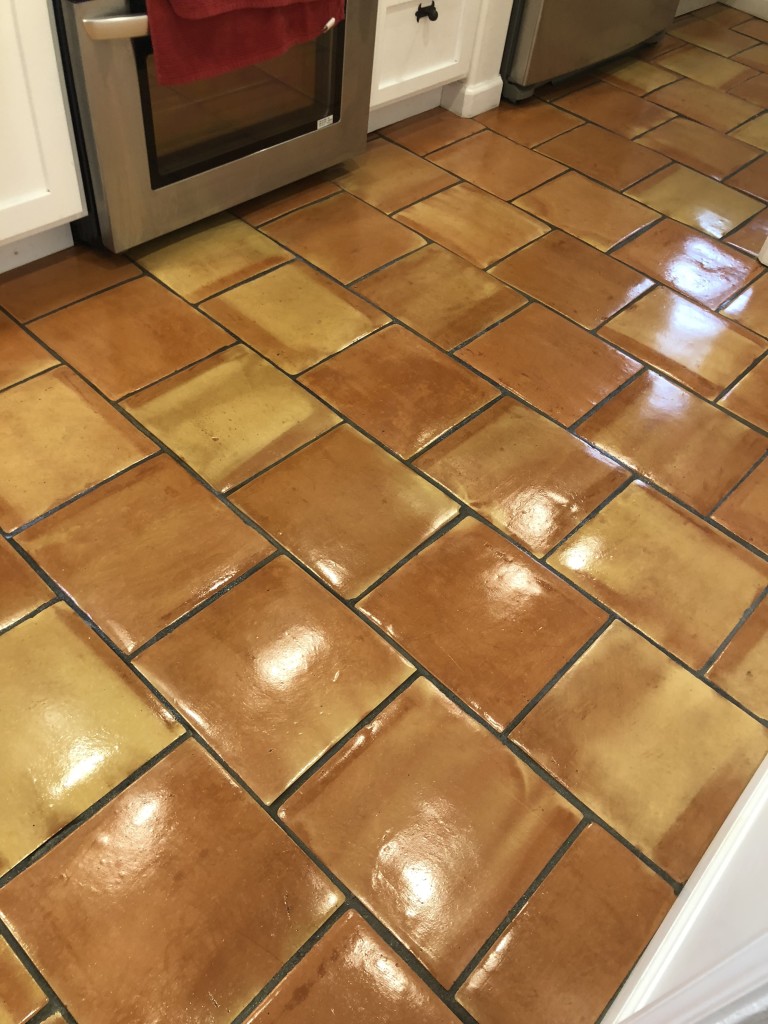 One of the most frustrating things in life is to find the best Saltillo tile cleaner at Home Depot or any hardware or home improvement store, that actually works. There are so many options and information overload when you do your research , the best cleaner for sealed saltillo tile is neutral cleaner.  You do not want a cleaner that will affect the sealer such as Ammonia, which can act as a mild stripper. Let's look into the Do's and Don'ts of saltillo tile cleaning so that you clean your saltillos with confidence, and know what to avoid at all cost.    
Why To Use Neutral Cleaner To Clean Sealed Saltillo Tile
So why should you use a neutral cleaner over all of the dozens of cleaners out there? Because using a neutral cleaner will not affect the sealer like most other harsh chemicals. Cleaning Saltillo tiles really comes down to technique and cleaning method. Saltillo tile maintenance is critical to keeping your sealer lasting as long as possible before they have to be stripped down. Continue reading to learn what exactly you should be doing method wise.
To Bleach or Not to bleach
Another common mistake I see a lot of people making is using bleach to clean their Saltillo tile and grout. Bleach has harmful effects on your sealer and can ruin your grout. Great for clothes and keeping things bright but it is just not the answer for your saltillo tile, stop using bleach to clean you tile.
I see people using ammonia to clean their saltillos. We actually use ammonia to clean saltillo tiles AFTER we've stripped them because it removes the last of the film left after stripping. Ammonia can unevenly remove the sealer from your saltillo tiles if you are not careful. If you do decide to use ammonia anyway dilute it and do not leave it sitting on your tile for too long or it will act as a weak stripper that will spottily remove the sealer which will cause your saltillo tiles to deteriorate fast especially where the sealer has been removed.
Ammonia is better to use then bleach but still not ideal to use. Just remember to really dilute it if you do. It's more in your technique of cleaning than the cleaner.
Saltillo Tile Grout Cleaning
Are you using a mop to clean your saltillo tiles? This is okay, but did you know that the dirt collects in the grout and that a mop over time can make things worse? A lot of people don't notice the grout becoming more and more dirty over time and they become "dirt blind". Here is a really good tip that will save you a lot of money in the long run, and keep your Saltillo tile floors looking absolutely amazing.
Use a brass tipped brush which you can get here (Click the link) or your local hardware store.
The gold bristled toothbrush looking  miracle works wonders on all types of grout. Just get the grout wet and brush away dirt and grime. With the neutral cleaner and hot water plus a few rags or Terry cloths you can bring the grout right back to like new especially if the Saltillo tiles were sealed correctly from the beginning, because all that collected dirt SHOULD be sitting on the sealer not on raw grout.
This is also the reason you must keep/get your Saltillo tile sealed correctly or you will have premature disintegration and if the tiles are outdoor unsealed, mold and algae can grow on the grout and tile, and cleaning will absolutely SUCK! If they can be cleaned at all! I've seen clients with mold growing completely through the tile and if you broke it in half you would see the black all the way through. It's all in the technique so when you use the brass tipped brushes scrub the grout while wet,  do not do it dry because you want the dirt raised in the cleaner when you go to wipe it dry.
Also do NOT I repeat DO NOT use steel tipped brushes. These are the brushes with the silver bristles because they will leave a silver/gray stain on your tiles and grout and saltillos though durable, are still very fragile sealed or not. Scrubbing with that steel tip could ruin them, but the brass tips are your friend. Every once in a while depending on your traffic, you are going to want to get down and scrub that grout.

These Saltillo Tiles STILL Aren't Getting Clean
Are you fed up? Have you already got down on your hands and knees, scrubbed the grout, and you saltillo tile floors STILL not coming clean? You are not alone. That dirt is just embedded into the sealer and it's not your fault. Time, neglect, inherited whatever it is, the only solution to this problem is to completely remove all off that old sealer and re-seal with fresh new coats of sealer. Be wary of sander and ,machines on these delicate tile. The saltillo tiles need to be stripped by hand using a chemical process that will bring the tiles back to their raw porous state.
Also water is the enemy with the tiles and they take forever to dry, especially if the surface has been sanded off. I find that the extra step of cleaning the raw porous tiles just takes them to the next level, but when they have been sanded, waiting for the tiles to completely dry so that we can apply sealer is just brutal. like watching paint dry. So be wary of the machines and water, they are not a good combo for Saltillo tiles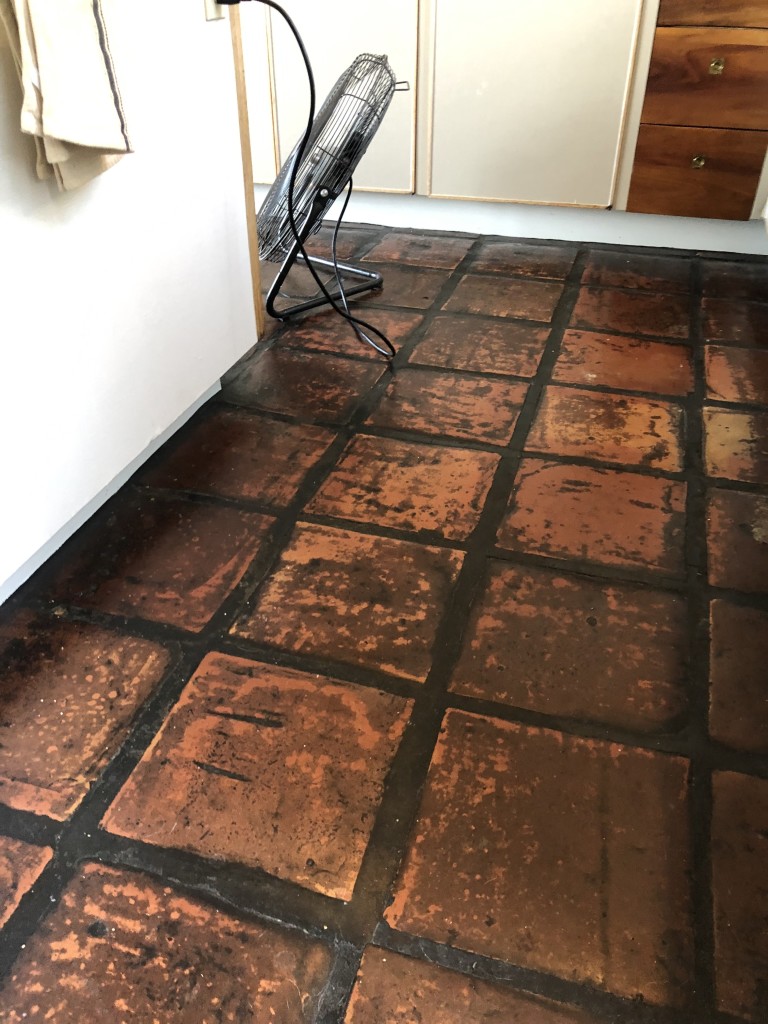 How Do I Know If I Need To Refinish My Saltillo Tiles
Are your Saltillo Tiles unclean-able? Do you have flaking or missing sealer? Are some areas deteriorating? Saltillo tiles turning white, hazy or cloudy? These are surefire signs that it's time for some Saltillo tile restoration and refinishing. Check out this video to see if it may be your time to refinish or will cleaning do the trick
3 Saltillo Tile Secrets No One Ever Told You
If you are using a mop clean the floor in sections and change mop water often.
Buff dry,  you want to buff dry so that your sealer last longer as water will dull the sealer over time. Think windex, they only REALLY get clean when you buff dry.  Also dirty mop water can collect in the grout per time causing buildup.
Already said this one but again use a brass tipped bristle brush to clean your grout, they are super cheap but as more people learn their uses I have seen the prices going up.

Conclusion
In conclusion it is not so much about the chemical you choose as it is about the technique, buffing dry, brass tip on the grout, etc. But the best Saltillo tile cleaner at home depot for you to use is a neutral cleaner.
You can get it here: Neutral cleaner
If you found this article helpful let me know in the comment below, and what attracted you to saltillos tiles in the first place or were they inherited?
And if you are looking to get you saltillo tile refinishing
Check out my youtube channel where you can get visual depth information to help you solve your particular problem.
Start planning your remodel with me and get on the busy schedule ASAP.
To set a date or start planning
CALL or E-MAIL
Kevin Williams
(707) 389-8375
California Tile Restoration
California Tile Restoration has stripped, refinished, restored, sealed and polished hundreds of terracotta tile projects in spanish style homes through San Francisco, Los Altos, Danville, Lafayette, Orinda Alamo Berkeley, Moraga, San Ramon, Walnut Creek, Bodega Bay, Napa Valley Wineries, Saratoga, Yountville. And also Refinished pavers in San Jose, Petaluma, Lake Tahoe, Gold Country, Novato, Kentfield, Greenbrae, San Anselmo, Fairfax, San Rafael, Lucas Valley, Sausalito, Mill Valley. We refinish Saltillo tiles in Tiburon, Belvedere, Stitson Beach, Point Reyes, Sea Cliff, Corte Madera, Auburn, Grass Valley, Natomas, Carmichael, Sacramento, Modesto, San Joaquin Valley, Palo Alto, Nor- Cal and So-Cal. We have done projects in San Diego, Palm Springs, Stanford, Anaheim, Los Angeles, Santa Barbara, Encinitas, Orange County, La Mesa, Carlsbad, Long Beach, San Clemente, Escondido, Oceanside, Rancho Bernardo, Rancho Sante Fe, La Joya, Pacific Beach, Contra Costa County, Alameda, Carmel, Santa Cruz, Aptos, Atherton, Woodside, Burlingam, San Mateo, Livermore, Pleasanton, Milpitas.